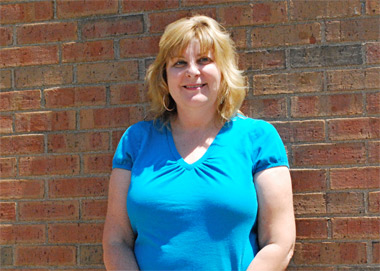 Photos by Christi Mathis
September 05, 2012
Ten Questions With ... Donna Sanders
Job on campus and department you work in:  Office manager for University Housing, Education and Outreach
How long at SIU Carbondale:  28 and one-half years.
Hometown:  Murphysboro
When you were a youngster, what did you want to be when you grew up?  I wanted to be a veterinarian.
If you could choose another profession, what would it be and why? I would be a social worker so I could help children.
What is one random fact about you?  I love chocolate!
What three things are at the top of your bucket list?  I would like to live long enough to see my great-grandchildren get married.  I would like to go on a cruise.  I would like to go on a mission trip.
What is your favorite way to spend a day?  My favorite way to spend a day is to sleep in late and spend time with my family members.
If you could take a photograph of your life, what would the picture be?  The picture would be a photo of me as a baby through adulthood with God standing in the background keeping his watchful eye over me.
What is the best advice you ever received?  "PICK YOUR BATTLES!"
If you could meet an historical person, who would it be and what would you talk about?  Eleanor Roosevelt.  I would like to talk to her about her life from start to end.
Favorite TV show (still running or ended)?  Sid Roth, It's Supernatural.
What is your pet peeve?  Mean teachers