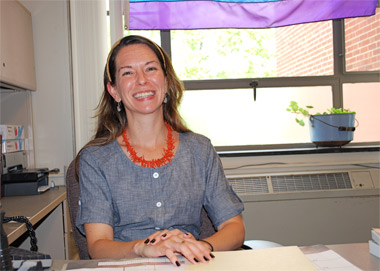 (Photos by Christi Mathis)
August 22, 2012
Ten Questions With ... Wendy Weinhold
Job on campus and department you work in: Coordinator, Lesbian, Gay, Bisexual, Transgender, Queer (LGBTQ) Resource Center.
How long at SIU Carbondale: Since August 2011 as coordinator; since 2005 as a graduate student.
Hometown: Gering, Neb.
When you were a youngster, what did you want to be when you grew up? A marine biologist. I wanted pet dolphins.
If you could choose another profession, what would it be and why? I would be a writer. Art in general, and writing and reading specifically, is a passion of mine. It would be a wonderful and terrifying job to be a professional author; wonderful because it's creative, terrifying because I would be very likely to be very poor.
What is one random fact about you? My favorite food is cheese.
What three things are at the top of your bucket list? Travel to India, Live in London, Have children.
What is your favorite way to spend a day? Around the house -- gardening, reading, cuddling with my cats and cooking in the kitchen.
If you could take a photograph of your life, what would the picture be? Me, in a dress, waving, on top of a mountain I've just climbed.
What is the best advice you ever received?  Be proud of yourself.
If you could meet an historical person, who would it be and what would you talk about? Crystal Eastman. We would talk about feminism, labor movements, suffrage, equality, peace activism, and journalism. I have tremendous respect and admiration for her work in the early 20th century.
Favorite TV show (still running or ended)? Arrested Development.
What is your pet peeve? People who don't promptly return phone calls, emails, or texts.