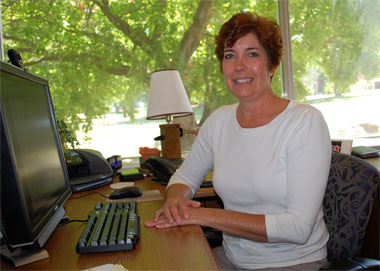 (Photos by Christi Mathis and Steve Buhman)
August 15, 2012
Ten Questions With ... Jodi Miley
Job on campus and department you work in: Recruitment and retention coordinator in the College of Education and Human Services
How long at SIU Carbondale: Three years in the early 1980s as a student; working here now for four years.
Hometown: Leaf River
When you were a youngster, what did you want to be when you grew up? A veterinarian.
If you could choose another profession, what would it be and why? Interior designer -- there are so many variables to put together and I love detail and multi-tasking. It's a challenge!
What is one random fact about you? My dad always said I wanted to join the circus because I could ride a unicycle and walk on stilts!
What three things are at the top of your bucket list? Travel all around Europe, live in a beach hut for a month (or year) and take my kids skiing out in the Rockies.
What is your favorite way to spend a day? Have no scheduled plans! Walking with my husband and dog, reading, planting flowers, sitting on the deck enjoying a tall iced tea and watching a movie with the family at night.
If you could take a photograph of your life, what would the picture be? All of my friends and family around me either on a beautiful beach or in the mountains.
What is the best advice you ever received? Don't worry about the things you can't control or change.
If you could meet an historical person, who would it be and what would you talk about? Probably a great-grandparent to find out what it was really like to move from Europe to America.
Favorite TV show (still running or ended)? Law and Order.
What would you like your gravestone to say about you? A woman of Faith, Peace and Joy!