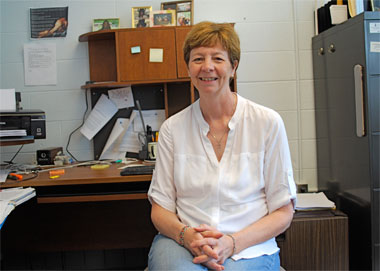 (Photos by Christi Mathis)
August 08, 2012
Ten Questions With ... Linda Herrold
Job on campus and department you work in: I have a split position: 50 percent of the time I teach physics and quantitative skills in MEDPREP, a post-bac program on campus, and 50 percent of my time, I am over at the medical school as assistant dean for student affairs.
How long at SIU Carbondale: I have been at SIU since 1987
Hometown: Ravenswood, W.Va.
When you were a youngster, what did you want to be when you grew up? I wanted to be a math teacher. And I did that!
If you could choose another profession, what would it be and why? A farmer. I inherited my family farm. I'm the fourth generation to own it.
What is one random fact about you? I work with a golden retriever rescue out of St. Louis called Dirk's Fund and I own five golden retrievers.
What three things are at the top of your bucket list? Own a farm, travel to all continents. I only have those two.
What is your favorite way to spend a day? Outside working in my yard.
If you could take a photograph of your life, what would the picture be? Not sure how to photograph "blessed."
What is the best advice you ever received? From my mother: "You can catch more flies with honey than vinegar."
If you could meet an historical person, who would it be and what would you talk about? I can't really think of any one person. I would like to experience living in different eras though.
Favorite TV show (still running or ended)? Friends.
What would you like your gravestone to say about you? It's a wonderful life.