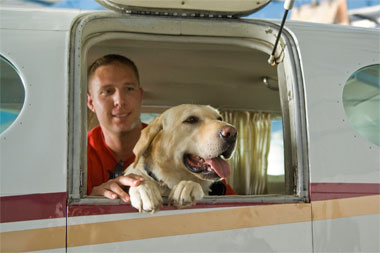 A solid friend --Tonka, a yellow Labrador, peers out of a Southern Illinois University Carbondale plane with his owner, Jason Brown, a retired U.S. Army sergeant from Murphysboro. (Photo by Steve Buhman)
August 01, 2012
Flights will help injured veterans, service dogs
CARBONDALE, Ill. -- When students and faculty in Southern Illinois University Carbondale's aviation flight program take to the skies next week, they will be carrying special passengers on their journey.
Pilots will take six injured veterans and their new service dogs for flights as the pairs learn to work together as part of This Able Veteran's program, which trains and provides service dogs to injured veterans. Six injured veterans with post-traumatic stress disorder (PTSD) or traumatic brain injuries (TBI) will be in Southern Illinois over the next two weeks to pair with and work with their service dogs.
Part of the training will include the injured veterans and their service dogs riding together aboard SIU Carbondale planes. Tentatively set for Aug. 7, the 20- to 30-minute rides will help both the service dog and injured veteran to feel comfortable while flying. Several of the injured veterans are coming from outside the region, including Arizona and California, and will be flying home with their dogs. It took more than a year to select and train the service dogs.
Media Advisory
Reporters, photographers and camera crews are welcome to cover the aviation exercise with injured veterans and their service dogs beginning at 7 a.m. on Aug. 7 at Southern Illinois Airport, if weather permits. SIU aviation personnel, Iraq war veteran Jason Brown, and Behesha Doan, a professional dog trainer, and president and training director of This Able Veteran, will be available for interviews. Some of the participating veterans may not wish to participate in interviews. We ask that you honor their request, and recommend that you allow the veterans to approach you for interviews.
Dave NewMyer, chair of the Department of Aviation Management and Flight, said aviation program members wholly support the effort.
"When I got the call and talked to our team at the airport everybody was all over it in the perspective of wanting to help our veterans," NewMyer said. "If there is anything we can do through the University to help them, we should do it. We don't have endless resources, but when the resources match something we can provide, we can do it."
Jason Brown and his service dog, Tonka, a yellow Labrador, made an initial flight earlier this month. Brown, a Chester native who lives in Murphysboro, suffered injuries in two tours in Iraq. He learned of the TAV program from his case manager at the Marion VA Medical Center. Once Brown and Tonka were matched, and following several months of training, Tonka came in April to live with Brown, a retired U.S. Army sergeant, his wife, and young daughter.
The initial flight was "surprisingly relaxing" for both of them, Brown said.
"Having him with me is always relaxing, but this was probably the most comfortable I have been on an airplane," Brown said.  "For him, it was the first time going up in the plane."
Brown said he and Tonka fared well during their exercise, even with in-flight turbulence and take-offs and landings. Brown said that instead of worrying about the flight, his focus was on Tonka, while at the same time Tonka's attention was on him.
The goal is helping the injured veteran and service dog learn to work through new situations. Doing something with Tonka that the two have never done before is uncomfortable, but Brown said he is confident he could make it onto a plane now with Tonka by his side.
Keith Mortag and Jeff Hayes, senior lecturers in the aviation flight department, are working with the TAV on the flights. Hayes is also part of an Illinois Air National Guard Unit out of Scott Air Force Base. In addition to Hayes' and Mortag's involvement, program graduates will have the opportunity to build multi-engine flight time and gain experience with the exercise.
"It is an honor for us to help in this situation," Mortag said. "This is a benefit for a very worthwhile cause."