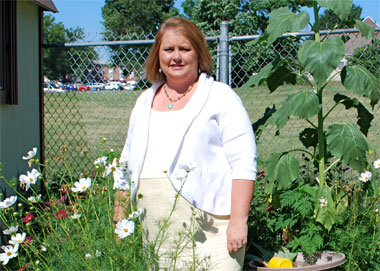 (Photos by Christi Mathis)
August 01, 2012
Ten Questions With ... Linda Drust
Job on campus and department you work in: Director of Rainbow's End Child Development Center
How long at SIU Carbondale: Five months
Hometown: Carterville
When you were a youngster, what did you want to be when you grew up? I always wanted to be a teacher.
If you could choose another profession, what would it be and why? I would choose a career in the medical field. I truly admire and am astonished by health care professionals. They not only cure the body, but they improve the quality of life.
What is one random fact about you? I decorate wedding cakes.
What three things are at the top of your bucket list? Vacation on a tropical island with my family, build a log cabin and build an outdoor kitchen.
What is your favorite way to spend a day? My favorite way to spend my day is cooking a great meal for family and friends and eating on the patio.
If you could take a photograph of your life, what would the picture be? One photo of my life would have to be a collage of many photographs that would include all of the special people in my life. The collage would be the image of a huge smile.
What is the best advice you ever received? "Do unto others as you would have them do unto you."
If you could meet an historical person, who would it be and what would you talk about? I would like to meet Jesus and would talk about how to make the world a better place.
Favorite TV show (still running or ended)? M*A*S*H is my all-time favorite TV show. My all-time favorite movie is Forrest Gump.
What is your pet peeve? People who manipulate others for their own advancement.