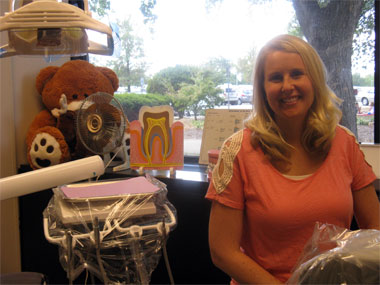 (Photos by Pete Rosenbery)
July 25, 2012
Ten Questions With ... Jennifer Meyer
Job on campus and department you work in: Clinical instructor, Dental Hygiene program
How long at SIU Carbondale: 13 years
Hometown: Carterville
When you were a youngster, what did you want to be when you grew up? An airline stewardess for American Airlines
If you could choose another profession, what would it be and why? Illinois State Police, Investigations Unit. I love solving crimes.
What is one random fact about you? I majored in music before studying dental hygiene.
What three things are at the top of your bucket list?
Vacation in Hawaii with my husband
Go on a cruise with my three daughters
Run a marathon
What is your favorite way to spend a day? Relaxing on the lake with my family.
If you could take a photograph of your life, what would the picture be? Small lakefront home, with family eating dinner on the back porch.
What is the best advice you ever received? Don't ask for advice if your heart already knows the answer.
If you could meet an historical person, who would it be and what would you talk about? Queen Elizabeth I. I would like to know how she overcame tragedy, and what it was like to rule a country at such a young age.
What is your pet peeve? People who do not return their grocery cart to the cart corral.
What would you like your gravestone to say about you? Amazing wife, mother, and friend.