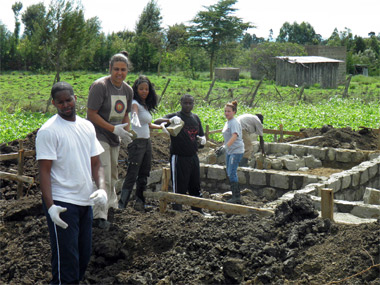 Building a clinic -- Participants in the SIU Carbondale service-learning trip to Kenya this summer helped begin construction of a medical clinic in Kambi.  Working on the structure are, from left, Corbin Doss, Amanda Diaz, Autumn Anthony, Timothy Gitau, and Alexa Phillips.  In back is a Kenyan worker on the project.  (Photo provided) Download Photo Here
July 16, 2012
Kenya trip: 'You will come back changed'
CARBONDALE, Ill. -- Tears streamed down Sara Macleod's face as she boarded a plane to end a recent 18-day trip to Kenya.  The Southern Illinois University Carbondale study-abroad service learning trip so completely absorbed Macleod that she felt she was leaving "my second family."
"It has always been a dream of mine to travel to Africa," said Macleod, a junior from Belleville majoring in elementary education. "I created a one-on-one relationship with everyone I could in the village.  The love I felt from them all was overwhelming and amazing.  I have never met more genuine people in my life.  The trip was definitely life changing.  It introduced us to an amazing culture, vastly different from our own."
Macleod was among a group of a dozen undergraduate and graduate students from SIU Carbondale and a few other colleges participating in the summer experience led by Peter Gitau, SIU Carbondale associate vice chancellor and dean of students.  Gitau began spearheading international service-learning trips to his homeland in 1997, and the trips have continued once or twice a year since his arrival at SIU Carbondale in 2008.
Gitau said the trip is unique in that participants completely experience and embrace Kenya, its people, and the culture. 
"It is truly an intercultural learning experience, an experiential immersion visit with a strong academic component," Gitau said. 
The journey began in the capital city of Nairobi.  The students learned more about Kenya's past and present during a visit to the Nairobi National Museum.  The group explored huts made of stone, mud, sticks, grass, wood or a combination of materials.
"Some of us were really touched seeing the different structures and the ways tribes live," said Dr. Ted Grace, director of SIU Carbondale's Student Health Services. Grace and Wendy Weinhold, a doctoral student and coordinator of the University's Gay, Lesbian, Bisexual Transgender Resource Center, accompanied Gitau and the students to Kenya.
The travelers headed to the coast next, visiting the Indian Ocean, beautiful beaches, and cultural and historical sites.  They discovered the influence that Germany, Great Britain, the Middle East and many other countries have on Kenya, and came to appreciate the nation's cultural diversity.
Next came a meeting with their new "families," the residents of the village of Kambi with whom they would live for eight days.  For some, for some, that meant living in a home with a dirt floor, along with taking bucket baths with no running water.  But the love and friendships they found quickly offset any discomfort.
Macleod, for example, became ill while in the village.  Her host mother quickly became like a real mother when Macleod said she needed comfort most.
"The family became people I value so much.  The daughter became the sister I never had, as well as someone I know I will always have in my life," Macleod said.  "Africa has always been a place heavy on my heart.  Through the trip I came to the realization of who I truly am, the plan God had for my life. and where I want to go with the rest of my life.  The trip introduces you to an amazing culture vastly different from our own, an that itself, is remarkable."
This was Weinhold's first visit to the African continent.  She discovered that "Kenya was unlike any place I had ever been before for all of the reasons I had anticipated and for all of those I hadn't."
She decided in advance that she was prepared for village life, if only she could have three "necessities" -- avocados, coffee and cheese.  Number one was easy since avocados are plentiful.  Weinhold's hostess was quick to offer to buy coffee, showing the group a popular American brand on store shelves.  As for the rich Kenyan coffee, Weinhold quickly learned that the locally grown java is a valuable resource, exported heavily, and thus much too luxurious for local villagers. 
Weinhold's third "must have," cheese, is her favorite food.  But it is something she said Lucy, her 75-year-old hostess, could not envision because she has never eaten it herself.
In addition to getting to know the local villagers, students also taught at local schools.  Weinhold, who is pursuing a doctorate in mass communications and media arts, planned to help children create paper snowflakes.  But after learning how valuable and scarce paper is in the region, the children created "zines" -- tiny alternative magazines that are learning tools and highly prized by children.
Corbin Doss, a senior majoring in civil engineering from Springfield, said the children he worked with were "very smart and nice" and that he enjoyed exchanging stories and experiences with them.  It was also heartbreaking at times.
"The most difficult part of the trip for me was hearing some of the extremely sad stories the students would share.  Some told stories about how family members died and they are forced to help raise their families themselves.  Others told stories about how their families couldn't afford to send them to secondary school so their educations will stop after the eighth grade.  It left me sad and trying to think of ways to help them," Doss said.
A community service project was a key part of the visit as the group began construction on a school-based medical clinic.  The clinic is truly a much-needed asset for the community, said Grace, who conceived the plan during last year's trip, when a similar group completed Kambi Community Library. That facility bears the Southern Illinois University name alongside that of "Teach My Kenyan Children," a sponsoring charitable operation.  The library is one of several school-based facilities Gitau's groups have built.  
This year's group raised funds to cover construction costs and worked alongside local residents in building the clinic. Doss said he now considers some of the local workers his good friends as they talked and worked together day after day, finding they are "very hard workers with great hearts."
Plans are to complete the clinic next year, which will have a full-time nurse practitioner on staff, Grace said.  He hopes to get area professional people and medical and nursing students to visit in future years to lend a hand in serving health care needs in the region.
The American group also brought along a big bag of goodies from Saluki Athletics, including balls and much-appreciated jerseys that children typically use as soccer uniforms.  There were shoes and school supplies for the children from their new American friends, too, all which helped to form close bonds that could be the beginning of lifelong friendships.
"The best part for me is tied between the relationships I created at the school as well as with my host family," Macleod said. 
Thanks to technology Macleod is able to connect with her host family almost daily, and frequently talks to her Kenyan students via text messaging and Facebook. 
As the visit with her host family drew to a close, Weinhold and Shannon Green, who also stayed at the same home that week, gave away various items to the children including flashlights, sweatshirts and mittens.  It was then that some young boys posed a "very important question" to the women, asking why Americans "have so much stuff?" Weinhold said.
 "I hadn't expected to be challenged in terms of learning what things I really need.  People there just don't have the things we have and yet they are so content, warm, friendly," she said.
Gitau said the richness of the African family life and community life quickly impresses visitors.  Virtually all are unsure how they will handle the circumstances, but quickly find that the quality of life is extraordinary and that the experience "stretches you."
"I was constantly learning on the trip, whether it was culturally, about myself or just in general.  I was never able to get enough information.  I always wanted more, always wanted to find a way to better understand, make a difference and become a better tool for those around me.  I learned how little I can live with and be happy," Macleod said.
"I loved having less because I was able to focus on my family and myself on the trip, without all of the extras we have in America," she added.  "This trip is something everyone should do if they are open to learning about themselves and Africa.  I am so grateful for the experience and cannot wait to go back.  I have every intention of attending this trip again next year.  I loved the experience and I count down the days till I return."
Doss said he learned much on the trip, including how good life is in America. Since returning home Doss said he has not complained about anything because he realizes how fortunate he is.  He initially found the venture appealing because he wanted to visit the place his ancestors came from and because he thought as a future civil engineer, the clinic construction project would be a good learning experience.  The Kenyans taught him something else that was very important though, he said.
"I met some of the happiest, warm-hearted people in Africa.  Just because you have money doesn't make you happy.  Some of these people are worrying about what they are going to eat tomorrow and we Americans can make the decision about what shoes we want to wear.  But throughout their situations, they are still happy because of what matters the most -- God and family.  Going on this trip was one of the best decisions I have made in my life.  If you have the opportunity to study abroad, do it.  You will come back changed," Doss said.
The African adventure wrapped up with a three-day safari into the Serengeti Game Reserve at Maasai Mara.
Gitau said at the end, he could legitimately say to the participants, "You have seen now the whole picture that is Kenya."
"I want them to see the people, the culture, to appreciate the richness of life and then see the sites and the animals.  They learn that people are just like they are, even around the world.  It is a real bonding experience.  This trip is always extremely transformative for the students who go," Gitau said.
University sponsors of the trip include: Student Life and Intercultural Relations, the Office of the Associate Chancellor for Institutional Diversity, the College of Liberal Arts (Black American Studies, anthropology), College of Education and Human Services, and College of Mass Communication and Media Arts.  Students may choose to earn up to six hours of academic credit for participating.
Students participating in the service-learning trip to Kenya, listed by hometown with major, year as of fall 2012, and school if other than SIU Carbondale, are:
Belleville
            •  Sara Macleod, elementary education, junior.
Braidwood
            •  Rachel Graff, anthropology, senior.
Carbondale
            •  Lacey Gibson, physiology, junior.
Chicago
            •  Amanda Diaz, recreation, junior.
Murphysboro
            •  Timothy Gitau, John A. Logan College.
Oak Park
            •  Autumn Anthony, kinesiology, masters.
Rantoul
            •  Taylor Cofel, anthropology. senior.
St. Joseph
            •  Alexa Phillips, American studies/international studies/Spanish, social work, junior, St. Louis University. 
Springfield
            •  Corbin Doss, civil engineering, senior
Vernon Hills
            •  Shannon Green, curriculum and instruction, masters
Missouri
Kirkwood
            •  Danielle Harper, psychology, sophomore
To learn more about this service-learning trip or the numerous study abroad opportunities at SIU Carbondale, visit http://www.ips.siu.edu/SA/index.html.