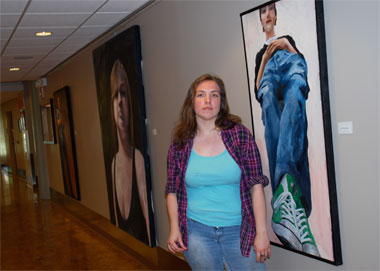 Larger than life  -- Angela Bolling, a senior art and art history student from Carterville, stands with a sample of her larger-than-life-interpretive portraits during a recent solo exhibit at the Student Health Center at Southern Illinois University Carbondale.  Other examples of her work are on exhibit now at Longbranch Café on the downtown square in Carbondale.  (Photo by Andrea Hahn) 
July 12, 2012
Art exhibitions a learning experience for student
CARBONDALE, Ill. -- A "panic attack" led to her first art exhibition.  A last-minute opportunity led to the most recent.
Southern Illinois University Carbondale art and art history student Angela Bolling currently has an exhibit of her paintings at Longbranch Café on the downtown square in Carbondale.  Previously, she has displayed her art at several on-campus venues.
Bolling, a Carterville native, said she is learning that a key to art exhibition success is being able to go public with the very personal.
"While I am working on a piece, it's all mine.  Once it's done, and people see it, I have no control what they say about it, or how they interpret it," she said.  "Once a painting is in the public, it becomes what people want it to be.  It's almost its own entity."
That's not a bad thing, she said.  But it does take some getting used to, and sometimes some thick skin.
Bolling's specialty, at least for now, is larger-than-life-size interpretive portraits.  Her paintings are realistic, but not photographic.  She emphasizes perspective and how perspective influences the emotions.  For example, a six-foot tall painting of an unsmiling woman's head and shoulders seems severe, particularly because of the size but also because the perspective of the painting is from below; the viewer is necessarily looking up no matter where the painting is hung on the wall.  Another portrait of a reclining young man in casual attire gives the perspective of emotional distance; the man's face is furthest from the viewer and his expression therefore shows less detail than Bolling shows in his Converse shoes. 
The Longbranch Café exhibit is Bolling's first off-campus art show.  She has found several opportunities to display her work at on-campus venues, and has learned that displaying art is an important component of creating art.  Recently she featured several of her portraits at the Student Health Center.  Several of the portraits were nearly as tall as the wall on which they hung.  Bolling moved several of the paintings around until she had them grouped in a way that made sense to her, but was different than how they'd been in the previous exhibit.  The available space, she said, presents challenges and advantages, making each exhibit unique.
"You have to be obsessed to be an artist," she said.  "It helps also to be a workaholic."
A particular benefit at SIU Carbondale, she said, is the way the School of Art and Design encourages artists to build community with each other.  The long and odd hours spent in the studio with fellow artists, she said, contributed to a thriving group of artists interested in and to a degree even influenced by each other's work.
Bolling's painting and drawings are in the "Nature Nurture Expression" exhibit at Longbranch Café through Aug. 13.  She shares space with photographer Cris Dornbusch.