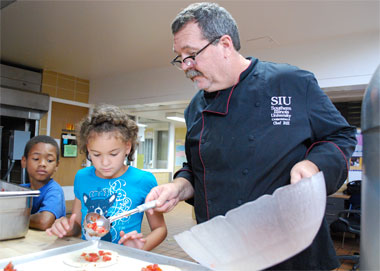 Cooking with 'Chef Bill'  -- Chef William Connors from Southern Illinois University Carbondale's University Housing helps Joshua Freeman and Zoe Kies, both from Carbondale, make pita pizzas and learn about healthy eating and good nutrition during Saluki Kids' Academy.  (Photo by Christi Mathis)
July 02, 2012
Saluki Kids' Academy mixes the right ingredients
CARBONDALE, Ill. -- First came the seasoned tomatoes, then the cheese.  
Joshua Freeman, Jyair Smith and Milton McDaniel patiently watched as Zoe Kies made her personal pizza before taking their turns, carefully spreading the ingredients just so.  A few minutes later the excited children were giggling with delight, tasting the pita pizzas they made under the watchful eye of Southern Illinois University Carbondale chef William "Chef Bill" Connors.  The budding chefs not only found out that they could cook, but they learned about healthy eating and food preparation with hands-on practice making dips and pizzas.
Cooking with "Chef Bill" is just one of the many experiences Saluki Kids' Academy is providing to 50 children between the ages of 6 and 12 this summer.  The children come from around the region, with most participants involved in Carbondale's "I Can Read" program.
 Saluki Kids' Academy provides academic, enrichment and educational opportunities for children who typically do not have access to summer camp experiences, explained Marla Mallette, academy director and associate professor of reading and language studies in the College of Education and Human Services.
"Engaging and hands-on learning is accompanied with focused instruction in literacy," Mallette said.
This year's program will wrap up with a family celebration at 5 p.m. on Thursday, July 5, at the Eurma C. Hayes Center, 441 E. Willow St., Carbondale.  The kids will show off the cooking skills they learned from Chef Bill as they prepare pita pizzas for those attending, and share what they learned this summer via digital stories they created.
The activities include visiting the University's vermicomposting center and the LOGIC garden, and planting their own container gardens with flowers, vegetables and herbs in the dean's atrium in the Wham Building.  They participated in teambuilding exercises, and have been involved in several activities that include boating on campus lake, and swimming, zumba and martial arts at the Student Recreation Center.
Malaya Tarver said she was really enjoying getting to swim in the Student Recreation Center's big pool.
"I learned how to swim freestyle," chimed in her friend, Zoe Kies.
The academic and lifestyle lessons are sticking with the kids.  They almost didn't seem to realize they were learning at the same time they were having so much fun.
"I like walking everywhere and having our own water bottles," Zoe said.   
Courtesy of University Housing, each child got a water bottle, using it throughout the camp as they learned to protect the environment and reduce waste.  With pedometers donated by Walgreens, the campers logged every step they took, hoping that by the end they can say that they walked to New York, figuratively speaking, of course.
In keeping with this year's theme, "Healthy Bodies, Healthy Minds," Walgreens pharmacist Mindy Ruble and store manager Matt Hughes also visited, giving the children sunscreen and sharing with them the importance of protecting their skin from sun and medication safety.
The program is a unique learning opportunity for children from the community, as well as for undergraduate and graduate students at SIU Carbondale.
"The kids are so eager to learn.  I'm a master's student in reading and language studies and each morning while we work on academics I help them with their journals and reading.  Even the ones who are struggling with reading are eager to learn and enjoy it.  I like to see them interacting with the text and connecting it to their lives.  They're really learning a lot.  And this is my first time to be involved with anything like this and I really love it," said Fangjian Shang, a program helper and Curriculum and Instruction graduate student from China.
Bethany Kies, a doctoral student in health education and a program helper, said the academy benefits children, the community, and SIU Carbondale students. Her daughter, Zoe, is also one of the campers.
"It gives me an opportunity to be connected to the community, which is important since I'm from Wisconsin.  The theme this year is 'Healthy Bodies, Healthy Minds' and with my background as a health educator, I get to practice what I've learned in the classroom by planning physical education and nutrition activities.  Helping with Saluki Kids' Academy allows me to combine practical experience, service and a connection to the community," Kies said.
Staffing for the program includes University graduate students, including several who are teachers throughout the region.  There are also volunteers who lend a hand, such as Ella Lacey, emeritus health education professor, who stopped by to help make pizzas.  The community outreach program operates at no cost to families, and draws support from gifts and donations to the Saluki Kids' Academy Foundation.
"Saluki Kids' Academy provides the children the opportunity to experience a summer camp and University life," said Claudette Colbert, the "I Can Read" program coordinator.  "They are 'mini'-college students, attending classes and participating in activities on the SIU campus.  They feel like big kids and they absolutely love it.  It gives them the opportunity to see themselves as future college students.  They see all of the students with their backpacks and think, 'That's going to be me someday.'  Here, they can see their potential."