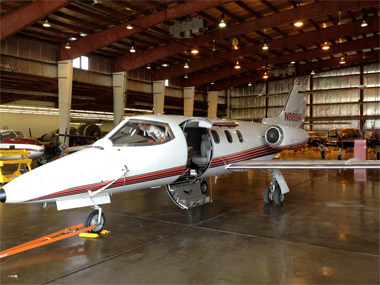 A new addition – Andrew Craig, an assistant instructor in Southern Illinois University Carbondale's Aviation Technologies program, inspects the cockpit of a corporate jet recently added to its fleet. (Photo provided) Download Photo Here
June 20, 2012
Aviation Technologies adds corporate jet to fleet
CARBONDALE, Ill. -- You probably will not find a Learjet at an ordinary weekend swap meet. But Southern Illinois University Carbondale's Department of Aviation Technologies program hit the jackpot with the recent addition of a corporate jet to its fleet.
The program recently traded its Sikorsky helicopter for a 1972 Gates Lear 24 fixed wing multi-engine jet.
The aircraft will be used for maintenance training in SIU Carbondale's Federal Aviation Administration-approved aircraft technician training program.  "It's a great addition to our program," said Michael Burgener, department chair.  "We've already used it probably 100 times more than the helicopter that we traded."
The program already had military jet and large commercial Boeing 737 jet aircraft, in addition to small single- and twin-engine piston airplanes, so a corporate jet-type aircraft is something the program was missing, Burgener said.  Although the plane is four decades old it was airworthy when it arrived at the Southern Illinois Airport earlier this spring.
The plane features modern systems that are invaluable for aircraft and avionics maintenance training.  In addition, the jet burns less fuel than the 737, which uses several gallons of fuel per minute, Burgener said.
"Students still receive the same training benefits by running the Lear engines, which burn a lot less fuel than the large 737 engines," he said.  "This jet is great for the program.  It's a neat aircraft to have sitting in the hangar."
What makes the aircraft less viable for current commercial interests is that it features turbo jet engines rather than turbo fan engines, Burgener said.  A turbo fan engine is more fuel-efficient and corporations favor those aircraft because they are cheaper to operate.
"The benefit of having aircraft like the Lear and the 737 is that students are able to work on things here that they are likely to see when they get out in the field," Burgener said.  "Many of our students go to work in corporate aviation and a Lear is a popular aircraft they are going to see and work on."