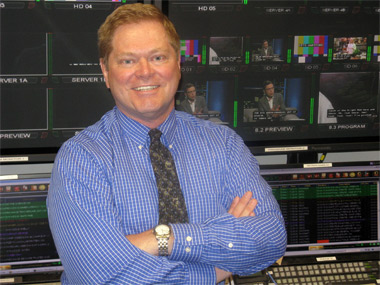 (Photos by Pete Rosenbery)
June 20, 2012
Ten Questions With ... Greg Todd
Job on campus and department you work in: News director, WSIU-TV's River Region Evening Edition.  I also teach news writing in the Department of Radio-Television.
How long at SIU Carbondale: Six months.
Hometown:   That's a tough one.  I've lived a nomadic life.  I was born in Bedford, Ind.  I lived the longest in Indianapolis, Ind.  I went to high school in Lincoln, Ill., and have family in Carterville, Ill.  I count living in 23 homes since birth.
When you were a youngster, what did you want to be when you grew up?   I knew exactly what I wanted to do… work in television.   The garage was my pretend studio.  I made TV cameras out of corrugated boxes and the studio lights were lamps with the shades removed.  I did my own pretend newscasts in the garage.  Yes, I was an odd little boy! 
If you could choose another profession, what would it be and why?  I think I would have enjoyed being an architect or car designer.  I loved to make drawings as a child of floor plans and buildings and exotic car designs.
What three things are at the top of your bucket list? 
I want to be at SIU long enough to see some of my students become huge successes.
I want to find out what is in the moving boxes still stacked in my garage.
I want to get good at surfing, because old guys who surf are cool.
What is your favorite way to spend a day? Laughing with friends. 
If you could take a photograph of your life, what would the picture be?  Standing on a sunny beach with pounding surf in the background, surrounded by good friends and family with everyone smiling broadly.
What is the best advice you ever received?   Adapt to change or get left behind.  And don't wait for your ship to come in.  Swim out to it.
If you could meet an historical person, who would it be and what would you talk about?  I'd like to do an in-depth interview with the person who continues to influence the laws and norms of Western society more than any other person nearly 2,000 years after his death.   I'd like to hear what Jesus thinks of the views that are sometimes attributed to him while others think his view would be very different.
Favorite TV show (still running or ended) I love Frontline on PBS.  It's excellent, groundbreaking broadcast journalism. 
What is your pet peeve?   Popping gum.
What would you like your gravestone to say about you?  That was a great ride, but time to move on!