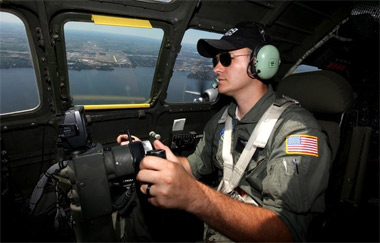 Bringing "FiFi" to Southern Illinois -- David Oliver, a 2006 graduate of Southern Illinois University Carbondale, will pilot a rare Boeing B-29 Superfortress bomber into Southern Illinois Airport next week for an overnight stay.  (Photo provided) Download Photo Here
June 13, 2012
Vintage B-29, P-51 Mustang to stop at airport
CARBONDALE, Ill. -- A rare Boeing B-29 Superfortress bomber, piloted by a 2006 Southern Illinois University Carbondale aviation program graduate, will touch down for a brief visit to the region next week.
David Oliver is the pilot of "FiFi," the only remaining flying example of the B-29 Superfortress bomber and part of the Commemorative Air Force (CAF) squadron.  The plane, along with a P-51 Mustang of the Cavanaugh Flight Museum, is expected to touch down at about 4 p.m., Monday, June 18, at Southern Illinois Airport. 
"FiFi" was built late during World War II and used as a training aircraft, while the P-51D Mustang, built in 1944, was shipped to England and assigned to the 9th Air Force, 370th Fighter Group, 401st Fighter Squadron and flown by Lt. Hjalmar Johnsen.
The two planes are part of a four-week tour that began May 18 throughout the eastern part of the United States and Canada.  They will arrive from Buffalo, N.Y., and the Canadian Warplane Heritage Airshow in Hamilton, Ontario, Canada.  Then planes will stop overnight in Southern Illinois before returning to the squadron's home in Dallas.
---
Media Advisory
Reporters, photographers and camera crews are welcome to cover the arrival of the vintage World War II planes on Monday, June 18, at Southern Illinois Airport.  The B-29 Superfortress bomber, "FiFi," will arrive at about 4 p.m., with the P-51 Mustang arriving a short time later.  David Oliver and other crew members will be available for interviews.  For more information, contact Michael Burgener, chair of the Department of Aviation Technology at 618/453-9204, or Gary Shafer, airport manager at Southern Illinois Airport, at 618/529-1721.
---
Visitors are welcome to look at the planes on the ramp but due to the short stay, the cockpits will not be open for tours.
The two planes are restored to their historic wartime configuration, said Oliver, a professional pilot and president of Hangar Workshop Productions, a small video production house in Plano, Texas, that specializes in aviation television material, in addition to helping pilots build experimental kit aircraft.
Oliver said in looking at logistics for the return to Dallas, he noticed the flight path took him over Carbondale, and decided to stop.  Oliver got his start with the B-29 while filming the installation of new engines on the bomber.  He was chosen as a volunteer flight operations officer for the squadron and moved into his permanent position in January.
"Normally we go to large cities and larger air shows but this will be a special event," he said.  "I think it's nice to bring the airplane to Carbondale to share it with the University that gave so much to me.  I hope everybody enjoys it."
The opportunity to see two World War II-era planes is special, said Michael Burgener, chair of SIU Carbondale's Department of Aviation Technologies.
"It's a privilege to have the aircraft here for even one night," Burgener said.
Charles L. Rodriguez, an emeritus assistant professor in aviation technologies, said it is important to remember the significant role that planes such as "FiFi" and the P-51D Mustang played in World War II.
Gary Shafer, Southern Illinois Airport manager, said it is a "great honor" for the facility to host "these two 'heroes' from World War II" on the overnight stay.
"Veterans of this era will likely remember the impact these aircraft had on the outcome of that war," Shafer said.  "We encourage everyone and, in particular, the area veterans, to visit the airport that evening, walk around and take pictures."
Shafer said that individuals requiring special accommodations should contact the Airport Authority at 618/529-1721 between 8 a.m. and 4 p.m. Monday through Friday. 
Visitors may bring cameras to photograph "FiFi," which Oliver said is likely the most photographed warbird now in existence.
As a fleet, the B-29 first flew in 1942 and began active service in 1944.  The plane carried atomic bombs over Japan in August 1945, and was in service during the Korean War. The U.S. Air Force retired the plane in the early 1960s.
"FiFi," the B-29 that Oliver will pilot, has a crew of about 14. At least two other crewmembers on the B-29 are SIU Carbondale aviation grads, but they will not be aboard for this trip. The P-51 has a two-person crew, he said.
About 25 B-29s remain, but "FiFi" is the only bomber that is airworthy, Oliver said. Recovered from the California desert near China Lake in 1971, a CAF maintenance team was able to restore and retool the plane to fly in nine weeks.   The plane now flies with four brand new Curtiss-Write 3350 engines, Oliver said.  Videos and additional information on the plane and the Commemorative Air Force are available here.
Founded in 1957, the CAF has a fleet of more than 150 airplanes distributed throughout the country to 74 units in 27 states.
Oliver's experience includes flying passengers and cargo throughout Afghanistan on ministry-related trips, and on surveillance projects in Iraq.  In both locations, drop-offs were quick and Oliver did encounter gunfire and improvised explosive devices while on the missions. 
While at SIU Carbondale, Oliver was heavily involved in student organizations and the aviation program, He was the 2006 International Aerobatic Club (IAC) National Collegiate Aerobatic Champion and part of an SIU Carbondale-affiliated team coached by Rodriguez. 
Oliver credits the "dedication and personal education" from faculty as a significant advantage.  Oliver said he and Rodriguez spent many late hours performing aircraft inspections on local airplanes.  Being able to work on airplanes after class and gaining valuable hands-on knowledge on projects that had no bearing on grades were important in Oliver's development, he said.
"I had some great teachers and they all applied themselves before and after class to get to know their students and invest in them as individuals, not just academic numbers or statistics," Oliver said.