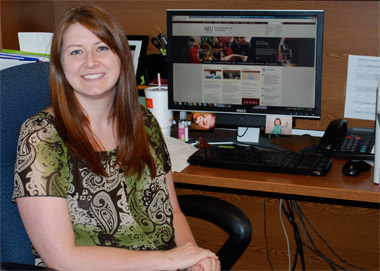 (Photos by Andrea Hahn)
June 06, 2012
Ten Questions With ... Michelle Hubbs
Job on campus and department you work in: Office Support Specialist, Office of Distance Education and Off Campus Programs
How long at SIU Carbondale: I was a full-time student from 2005 to 2007, and a Civil Service employee beginning in 2009.
Hometown:  Murphysboro
When you were a youngster, what did you want to be when you grew up? A marine biologist -- I liked dolphins.
If you could choose another profession, what would it be and why? Carpentry -- I like to construct things.
What is one random fact about you? I am shy.
What three things are at the top of your bucket list?
Master's degree
Step foot on every continent
Have pets
What is your favorite way to spend a day? Spending a full day with my husband (who works different shifts and days than I do) and our daughter.
If you could take a photograph of your life, what would the picture be? My family (husband, daughter, parents, siblings, nieces and nephews)
What is the best advice you ever received? Slow down.
Favorite TV show (still running or ended): Lost (minus the last episode)
What is your pet peeve? Toothpaste in the sink.
What would you like your gravestone to say about you? Wonderful mother, daughter, wife, sister and friend.