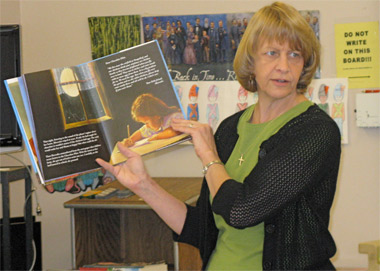 (Photos by Christi Mathis)
May 16, 2012
Ten Questions With ... Louise Stearns
Job on campus and department you work in: Senior lecturer in Curriculum and Instruction in the College of Education and Human Services
How long at SIU Carbondale:  As a faculty member since January 1989, however, I was a student here before that time.
Hometown:  Pinckneyville
When you were a youngster, what did you want to be when you grew up?  Teacher.
If you could choose another profession, what would it be and why?   Librarian -- I love books and reading. 
What is one random fact about you?  I am a new grandma.
What three things are at the top of your bucket list?  Go camping near the Great Lakes, make a T-shirt quilt for each of our children, learn to crochet. 
What is your favorite way to spend a day?  Camping with my husband.
If you could take a photograph of your life, what would the picture be?  This is difficult to imagine, but maybe something like me reading the Bible to children.
What is the best advice you ever received?  Live your faith, let your life reflect what you believe. 
If you could meet an historical person, who would it be and what would you talk about?  Ronald Reagan -- his faith and his life in politics.
Favorite TV show (still running or ended)?  NCIS or The Waltons
What is your pet peeve?  Use of inappropriate language.
What would you like your gravestone to say about you?  "Saved by Grace."