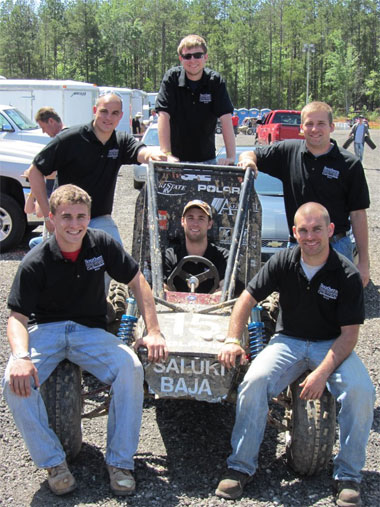 Go! -- Members of the Saluki Baja team pose with their creation after the Baja SAE competition in Auburn, Ala. From left to right are Keegan Lohman, Eric Schackmann, Alex Watson, Mike Maiorano, Branden Littlejohn, and Brett Probst. (Photo provided)
May 09, 2012
Students' 'Saluki Baja' competes in off-road test
CARBONDALE, Ill. -- Engineering students from Southern Illinois University Carbondale joined those from around the country recently as they competed in off-road race aimed at honing their design skills while also conquering the course.
Competing as SIU Carbondale's first-ever team in the event, Saluki Baja finished near the middle of the pack of 111 teams in Auburn, Ala., last month. The competition, in which college students design, build and race an off-road, Baja-style vehicle, tested engineering skills while putting students in touch with professionals from engine companies and other industries.
Baja SAE includes three regional competitions that simulate realistic engineering design projects and related challenges. Engineering students must design and build an off-road vehicle that will survive the severe punishment of rough terrain up to and including the occasional water hazard.
The competition is aimed at providing students with a challenging project that involves the same types of planning and manufacturing tasks involved in introducing a new product to the consumer industrial market. Teams compete to have their design accepted for manufacture by a fictitious firm, and they must function as a team to not only design, build, test, promote and race a vehicle, but also to generate sponsors while managing their school workload.
Judges graded each team's performance in categories that included overall dynamics, its looks, cost, design, acceleration, land maneuverability and hill-climbing ability. The Baja SAE competition saw the Saluki team finish 56th during the four-day event, in what team members said was great accomplishment for the first-year team. Cornell University won the competition.
David Williams, a senior lecturer in the technology department in the College of Engineering, helped guide the 10-member team, along with Tim Attig, a tool and instrument mechanic in the Department of Mechanical Engineering and Energy Processes, who helped with building the car and filled in for Williams at the competition.
The team began design work on the car in fall of 2011, finishing the actual building process in April. It was designed and fabricated to overcome a series of challenges on rough terrain, team members said. To accomplish this, the faced challenges in acceleration, maneuverability, suspension, hill climb, and endurance. Members spent hours on components such as the car's frame, suspension and its 10-hp Briggs & Stratton motor.
During the event, April 19-22, the team also traded notes, ideas and suggestion from the Polaris and Honda engineers hosting the event.
Team members included:
            • Jason Cook, a senior in mechanical engineering from Waltonville.
            • Branden Littlejohn, a senior in electrical engineering technology from Oblong.
            • Keegan Lohman, a sophomore in mechanical engineering from Hillsboro.
            • Mike Maiorano, a sophomore in industrial technology from Tamaroa.
            • Brett Probst, a junior in mechanical engineering from Teutopolis, who also served as team president.
            • Yaser Rashwann, a senior in industrial technology from Saudi Arabia
            • Eric Schackmann, a senior in mechanical engineering from Newton.
            • Kaleb Schwartz, a senior in industrial technology from Chicago.
            • Joel Taylor, a senior in industrial technology from Chillicothe.
            • Alex Watson, a junior in electrical engineering from Eldorado.
Sponsors of the effort include Agracel Inc. of Effingham, Tri State RV & Polaris of Anna and King Shocks from Garden Grove, Calif. Saluki Baja also received donations from the University's Center for Advanced Friction Studies and Department of Electrical and Computer Engineering.
Team member say they hope to race again next year, with a goal of finishing in the top 25 percent of competitors. They currently are seeking additional sponsors.
You can learn more about the team at www.salukibaja.com or www.facebook.com/salukibaja.