May 07, 2012
Spring commencement ceremonies set for May 12
CARBONDALE, Ill. -- Southern Illinois University Carbondale's commencement ceremonies are set for Saturday, May 12.
There are 3,480 candidates for degrees as of May 1, including: 2,783 candidates for bachelor's degrees, 495 candidates for master's degrees, including master's candidates from the School of Law; 80 candidates for doctoral degrees, 104 law degree candidates, and 18 candidates for associate degrees.
Three separate commencement ceremonies will be held at the SIU Arena for undergraduate and graduate students.  Commencement ceremonies are open to the public, and tickets are not required.
Retired U.S. Navy Captain Mark Kelly, who served as commander of the space shuttle Endeavour on its final mission last year, will be the keynote speaker for each of the three commencement ceremonies.  A combat naval aviator during the Gulf War, Kelly was selected as an astronaut in 1996.  He flew four shuttle missions in his career, and is one of only two individuals to visit the International Space Station on four different occasions.
Kelly is married to former Congresswoman Gabrielle Giffords, who continues her recovery from a January 2011 assassination attempt. Giffords, an Arizona Democrat, was first elected to Congress in 2006 and retired in January 2012 to focus on her recovery.  The couple shares their story of hope and resilience in their best-selling memoir, "Gabby."
One individual will receive an honorary Doctorate of Humane Letters, two people are receiving Distinguished Service Awards, and five alumni will receive Alumni Achievement Awards during their respective college or school ceremony.  The award is the highest honor presented by the SIU Alumni Association.           
The commencement schedule, along with the honorary degree, distinguished service award and alumni achievement award recipient sketches, is below.  In most instances the alumni achievement award recipients provided their own biographies.  Not all colleges are having alumni achievement award recipients this year.
            9 a.m. -- College of Liberal Arts and College of Mass Communication and Media Arts.
Deidre McCloskey will receive an honorary Doctorate of Humane Letters.
McCloskey is the Distinguished Professor of Economics, History, English and Communication at the University of Illinois at Chicago, and a professor of economic history at Gothenburg University in Sweden. 
McCloskey, a native of Ann Arbor, Mich., earned her doctorate from Harvard University in 1970 and taught economics for 12 years at the University of Chicago.  She was Visiting Tinbergen Professor of Philosophy, Economics, and Art and Cultural Studies at Erasmus University of Rotterdam from 2002 to 2006.  She has been a distinguished professor at UIC since 2000.
In addition to her teaching credentials, McCloskey is a prolific writer.  She has 14 books to her credit as an author, and seven as an editor.  In addition, McCloskey has approximately 360 published journal articles on topics including economic theory, economic history, philosophy, rhetoric, feminism, ethics and law. 
Edward T. Collins, vice president and assistant general counsel for The Allstate Corp., is a two degree SIU Carbondale graduate, and will receive his Alumni Achievement honor from the College of Liberal Arts.  He earned a bachelor's degree in political science in 1982, and a law degree from the SIU School of Law in 1986.
Collins began his career with Allstate as an intern in the company's law and regulation department during the summer of 1985.  Collins' work has involved virtually the entire range of legal and public policy issues that an insurance company will face, including complex litigation that includes rate cases, and managed state legislative and regulatory affairs on a nationwide basis.  He is leader of Allstate's Public Policy group.
Collins is also national director of ProtectingAmerica.org, a non-profit coalition of first responders, emergency management professionals, building code experts, business leaders and others who work to offer public policy solutions that better prepare and protect the United States from massive natural catastrophes.  Collins is also on the board of directors and executive committee of the Institute for Business and Home Safety.
Collins lives in Gurnee.
            1:30 p.m. -- College of Agricultural Sciences, College of Applied Sciences and Arts, College of Engineering and College of Science.
Sam Robb, a retired, longtime vocational agriculture teacher at Pinckneyville Community High School, is a two-degree SIU Carbondale graduate and will receive the Alumni Achievement award from the College of Agricultural Sciences.  He earned a bachelor's degree in general studies, and later earned a Master of Science degree in Agriculture Supply and Service.
Robb spent 37 years teaching high school industrial education or vocational agriculture classes in Kewanee, Mount Carmel, and the last 32 years at Pinckneyville Community High School before retiring in 2005.  During his time in Pinckneyville, he supervised 34 student teachers from SIU Carbondale, many of whom continue to teach and provide leadership in agriculture.  Robb was a member of the SIU Agriculture Education Advisory Committee for many years, and is a member of the college's Leadership Board.  Among his many honors, Robb earned the SIU Service to Agriculture Award in 1987 and Illinois Ag Teacher of the Year in 1990.
He is involved with numerous civic organizations, including the Perry County Fair Board.  Robb is also serving his second term on the Perry County Board.
Robb lives in Pinckneyville.
Lee H. Raines, director and division head of automotive service for American Suzuki Motor Corp., will receive his Alumni Achievement honor from the College of Applied Sciences and Arts.  Raines earned his associate degree in automotive technology in 1985, and a bachelor's degree in advanced technical studies in 1986, both from SIU Carbondale.
During his career Raines has held various leadership positions with American Suzuki Motor Corp., in addition to other automotive manufacturers -- including national retail operations development manager for Mitsubishi Motor Sales of America, and regional consumer affairs manager for Kia Motors America.  He has also worked with many retailers to improve their operations as regional manager at Key Royal Consulting.
Raines is a member of the national advisory board for SIU Carbondale's Department of Automotive Technology.  He has hired numerous graduates from the College of Applied Sciences and Arts for the three automakers, and is involved with their mentoring.  He sponsors current students through the SIU Alumni Association's externship program and actively recruits students for full-time jobs.
Raines coordinated the donation of several training vehicles, diagnostic tools and service information support for the automotive technology program.  He was responsible in April 2009 for American Suzuki Motor Corp. providing the program with its largest single donation of 10 training vehicles.
Raines lives in Acworth, Ga.
Thomas J. Murray, a retired executive vice president and owner of Chicago-based Sargent & Lundy, LLC., will receive his Alumni Achievement honor from the College of Engineering.  Murray earned his bachelor's degree in engineering technology in 1967.
Murray spent more than 40 years with the company, and retired in December 2007 as director of the company's Power Delivery Services business group.  He was a member of the company's corporate executive team, board of directors, and an owner, responsible for strategic planning, risk management, policy development, financial planning and annual budgeting. 
His experience includes all phases of project management, design, engineering and construction of high voltage/extra-high voltage air-insulated substations, gas-insulated substations and transmission lines.  His experience includes international projects in many countries.
He is a registered professional engineer in eight states, including Illinois, Arizona, California and Florida, and a member of the Illinois Society of Professional Engineers and the Institute of Electrical and Electronics Engineers.  He is also a board member and former chair for the Special Olympics of Illinois, LLC.
Murray lives in Lisle.
            5:30 p.m. -- College of Business, College of Education and Human Services, and the SIU School of Law.
Brocton D. Lockwood, nominated by the SIU School of Law, will receive a Distinguished Service Award. 
A longtime attorney and retired judge, Lockwood is a native of rural Murphysboro. He earned his bachelor's degree in political science at Oberlin College in Ohio and his law degree from Vanderbilt University.   Returning to Southern Illinois and private practice, he taught constitutional law at the University and the SIU School of Law from 1971 to 1976.  As an associate judge in the First Judicial Circuit between 1978 and 1983, part of Lockwood's duties included assisting with the backlog of cases in Cook County by serving in their traffic court.  Frustrated by the apparent corruption he witnessed within the judiciary there, Lockwood volunteered to serve as an undercover investigator for the FBI's Operation Greylord.
The investigation resulted in 84 convictions from 92 indictments, including 15 judges and more than 40 attorneys, in addition to deputies and court personnel. One of the books written on the undercover federal probe was the 1989 book, "Operation Greylord: Brocton Lockwood's Story," by Lockwood and Harlan H. Mendenhall, an emeritus journalism professor at SIU Carbondale.
After spending more than a decade in private law practice in Marion, Lockwood returned for a second term as associate judge in 2000, working in Saline County. Recognizing the impact of the increasing use of methamphetamine, which represented more than 50 percent of the county's felony cases in 2004, Lockwood initiated the Saline County Drug Court that year.
Lockwood retired in 2006.  He and his wife Gala, who live near Harrisburg, are active members of the Southern Illinois Parkinson's Support Group.
Larry D. Bailey, nominated by the College of Business, will receive a Distinguished Service Award.
A businessman and consultant, Bailey, who lives in Washington, D.C., earned his bachelor's degree in accounting from SIU Carbondale in 1972.  He is a licensed CPA and is a former partner with two international public accounting firms, in addition to being a former Internal Revenue Service agent.
Bailey completed his MBA with a concentration in finance at the University of Pennsylvania's Wharton School in 1976.
He is one of the founders of SIU Carbondale's accounting registered student organization, Blacks Interested in Business (BIB), and received the BIB Leadership Award in 2011.  The College of Business inducted Bailey into its Hall of Fame in 1991.
Since 2002, he has served as president of LDB Consulting, Inc.  Through his company, Bailey provides strategic financial and tax consulting services to corporations, small businesses and private individuals.  From 1991 to 2002, he was a partner with PricewaterhouseCoopers, responsible for providing financial, accounting and tax services to quasi-government, corporate, partnerships, sports franchises and individual clients.
From 1976 to 1991, Bailey was a partner with KPMG Peat Marwick, providing tax and consulting services to financial institutions, insurance companies, energy companies, real estate, government contractors, investment companies, manufacturers and individuals.
Bailey serves on several corporate boards and is involved with charitable organizations, including Africare, an organization that focuses on improving the quality of life for people in Africa.  He is vice chairman of the board and former vice chair and treasurer of the board for Corporate Council on Africa.
Hazel Loucks, who served as Illinois' Deputy Governor for Education and Workforce from January 1999 to January 2003, will receive her Alumni Achievement honor from the College of Education and Human Services.  She earned her bachelor's degree in elementary education in 1966.
An assistant professor at SIU Carbondale from 1989 to 1994, Loucks is currently an associate professor at McKendree University, teaching education master's- and doctoral-level courses.
She is a former classroom teacher, high school counselor, and elementary and middle school principal.  In addition to serving as a deputy governor for the state, a cabinet-level position, Loucks' experience includes working as a private education consultant and workshop presenter delivering leadership development training that she authored. 
She has also served as Elementary and Second Education Act Specialist for the National Education Association, and a regional system of support provider (RESPRO) coordinator for the Illinois Association of School Administrators.  She was also a school improvement specialist, working as an education consultant in the Virgin Islands for Learning Points Associates.
In addition to writing many educational and training materials, Loucks is the author of "Reengaging Families in the Education of Middle School Children."
She earned a doctorate in education administration from St. Louis University, and a Master of Arts in personnel in higher education from The Ohio State University.
Loucks lives in Edwardsville.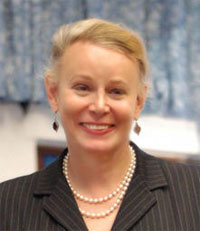 Deidre McCloskey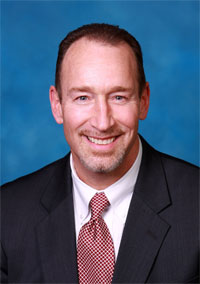 Edward T. Collins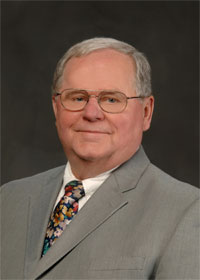 Sam Robb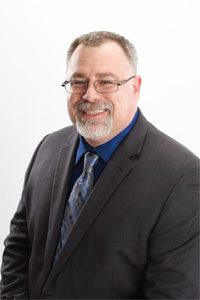 Lee H. Raines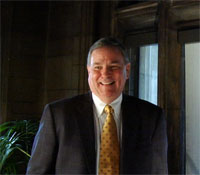 Thomas J. Murray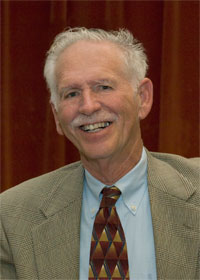 Brocton D. Lockwood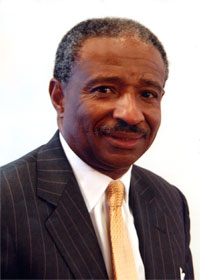 Larry D. Bailey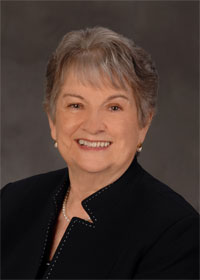 Hazel Loucks