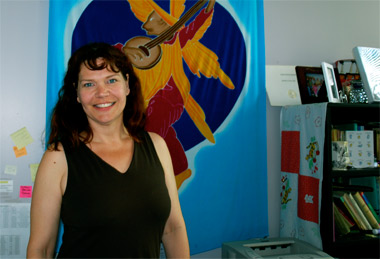 (Photos by Andrea Hahn)
May 02, 2012
Ten Questions With ... Susan Patrick Benson
Job on campus and department you work in: Assistant professor of voice and speech specialist in the Department of Theater
How long at SIU Carbondale: Six years
Hometown: Coshocton, Ohio
When you were a youngster, what did you want to be when you grew up? An actor on the stage.
If you could choose another profession, what would it be and why?  An FBI agent. I almost became one, and was on my way to Quantico when the first Gulf War broke out and the federal government basically froze all applications that year.  I am fascinated with the psychology of what it takes for agents to stay undercover, and wanted to work with agents after they came off undercover duty to re-acclimatize to life.
What is one random fact about you? I am a big supporter of organ, blood and plasma donation.  I have been registered since I was 18.  I have had the privilege of witnessing my blood go into a friend's infant daughter undergoing chemotherapy.  I also was a match to give my husband my left kidney 10 years ago.
What three things are at the top of your bucket list? 1) Found an artists' retreat; 2) do a Master's voice workshop for actors in every country in Europe; 3) create an artists' foundation that uses the performance arts to raise funds to abolish global hunger and malnutrition.
What is your favorite way to spend a day? A day spent doing anything with my son and husband is a day well spent, (adding in a little alone time for me to take a long walk with the dog.)
If you could take a photograph of your life, what would the picture be? My life as a picture would be an endless sky with bright colors, or a picture of a winding path through a stunning forest (the road less traveled.)
What is the best advice you ever received?  Live in gratitude, and you will always be and have more than enough.  Become the person that you would like to see influence the world.
If you could meet an historical person, who would it be and what would you talk about? I'd like to talk with Abraham Lincoln, Martin Luther King, Jr., and Mahatma Ghandi.  I'd ask: How did you keep focus with so much turmoil and resistance around you? Where did you find your courage?
Favorite TV show (still running or ended): The Sopranos (there's that FBI thing). St. Elsewhere.
What would you like your gravestone to say about you?  Susan Patrick Benson: Mother, Wife, Sister, Daughter, Friend, Teacher, Artist.  She lived her dreams and loved well.