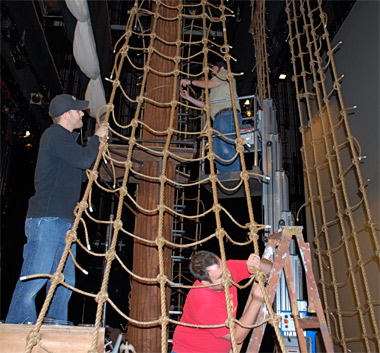 Backstage "Billy Budd"  – The ship's mast plays an important role in the play "Billy Budd," and not just as a set prop so the audience understands the setting is aboard a ship.  The rope netting has to look good, with authentic knots, and it has to support an actor's weight.  Here, members of the crew work on the mast and nets.  Left is Jake Joseph, a graduate student from Manchester, N.H.; up top is Phillip Webster, a graduate student from Elkville, and on the ladder is Mike Johnson, a graduate student from Mundelein.  All three are theater majors specializing in technical direction. (Photo by Andrea Hahn)  Download Photo Here
April 26, 2012
Stage production requires behind-the-scenes magic
CARBONDALE, Ill. -- There is magic in a good theater production -- the kind of magic that can make audience members believe they are being transported to an enchanted forest, a small town post office, or, in the case of "Billy Budd," the high seas.
Making that magic happen requires a behind-the-scenes effort that isn't just about the right light in the right place at the right time.  It's also about telling the story using props and lighting and setting and costume.  It's part of the production, but not a part that often gets asked for autographs.
The Department of Theater at Southern Illinois University Carbondale premiers "Billy Budd" this week, a first-time anywhere production of a stage adaptation written by David Rush, SIU Carbondale professor emeritus.
The play runs April 26-29, with performances beginning at 7:30 p.m. except for the Sunday performance, which is a 2 p.m. matinee.  Tickets are $16 for the general public, $6 for students and children.  Tickets are available in advance at the McLeod Theater Box Office, by phone at 618/453-6000, or online at SouthernTicketsOnline.com.  Tickets are also available at the door beginning one hour before the performance starts.
In short, "Billy Budd" is a novella by American writer Herman Melville (1819-1891).  The character Billy Budd is an innocent, well-liked young man.  He is forced into serving with the Royal Navy, where he encounters the inexplicable enmity of the ship's master-at-arms, John Claggert, who accuses him of mutiny.  To say any more would spoil the plot.
Melville never finished his novella.  David Rush, however, saw the potential to bring the story to life on stage.  Under the direction of J. Thomas Kidd, associate professor of acting and directing, and the chair of the department, and with the help of the aforementioned behind-the-scenes effort, the high seas comes to McLeod.
"This began with my fascination with Melville," Rush said.  The story of "Billy Budd" in particular, he said, appealed because of its relevancy to the modern political scene and questions of interpretation of the law and the diminishing human quality when interpretation is too literal.
Staging an old play -- Shakespeare, for example -- is different from staging a copyrighted play by a living playwright.  A director can edit scenes out of Shakespeare, or blend two characters into one, or take other liberties.  The same is not the case with "Billy Budd."  Still, Rush said that, now the play is written, his part in bringing it to life is finished.
"My job is to dream, theirs is to build," he said.  "All the different elements -- lighting, set, costumes, props -- bring their own magic.  I can just sit back and enjoy."
"My obligation is to the audience and to the director," Anthony Reed, a graduate student and the lighting designer, said.  He's been the lighting designer on quite a few productions, but it's novel to have the playwright actually in attendance at some rehearsals, and it's fun, he said, to be involved in a world premiere.
"Most of the time, the technical crew pays attention to previous productions to see how they've solved problems.  They may not do exactly the same thing, or even a similar thing, but it's useful to see how other crews approached challenges," he said.
As for his role as lighting director, most of the time he'd prefer the audience not notice the lighting.  It should be so much a part of the ambiance of the play as to seem natural to it.  This time around, though, the lighting is part of the story-telling.
"We use lighting in every production not just to light the stage but to set the emotional temperature," he said.  "In this play, we have scenes that are presentational, when the action is happening in the present, and we have scenes that are representational, that are more in the mind.  The lighting is key to differentiating those two types of scenes."
Reed said he also relies on lighting as a motif for a particular character, similar to how a soundtrack might represent a character with a particular piece of music.  All of it, he said, involves a balance between his own vision and providing what the director wants.
Kidd, as director, constantly challenges the technical crew.  Sometimes there is a gap between what he wants to see and what can be done, but such is his energy and vision that the crew comes together to find ways to make the magic happen.
For Kidd, all of the elements are key to the story, not just the script but the bigger story behind the script.  He described, for example, how sound volume is key to the story -- ambient sea noises, loud on-board-ship noises, loud voices, loud cannon (yes, cannon), and then the moments of quiet.  Something as simple as making noise, though, comes with its own challenges.  Barrels that need to slam must also be sturdy enough not to break, for example. 
And props.  A ship's bell should be a ship's bell.  And a piece of grating that will double as a support during a particularly horrifying scene has to be the right height and strength to support an actor's weight, but not so big as to make moving it difficult. 
Heidi Larson, graduate student and costume designer for this production and a scenic designer for others, said that practical side of making a vision a reality certainly presents challenges.
"We are responsible for helping develop the characters more individually than, say, a set would," she said.  "The goal is to look at each individual and analyze social status, motivations, how they present themselves versus how the world sees them, economic status, personality and so on -- and then to try to come up with a visual representation for each one that will be accurate to the production, but also something the audience can relate to and understand."
In this case, Kidd wanted historical accuracy as a base for the costumes, but the theatricality of the production, and the fact that several actors play more than one part, requires Larson to stretch her creativity.  And sometimes ideals have to take a bow to time and budget. 
Larson said she started the same place the others did in bringing her creative vision in line with the director's vision; she began with the script.  She noticed there are times when an individual needs to be all but indistinguishable from the whole, and she wanted the costuming to make that possible.  In addition, she said, her costuming had to reflect the director's choice to make the crew representative of a universal world, not just one geographic place. 
"I had to consider, too, how long have the individual characters been on board the ship -- that comes into play with hairstyles and facial hair," she said. "So, there's lots to take into consideration before we even look at the budget or the practicality of an idea."
Speaking of the internationalism of the characters, speaking became part of the characterization -- not just what is said, nor even just how, but what, how, and in what accent.
Susan Patrick Benson, associate professor of theater, was dialect coach.  She said her job is to make sure actors don't lose their individual voice -- that they learn how to use diction, to be heard and understood without losing expression, and, of course, how to speak in dialect or with an accent.
"The key is to tie the acting in with the voice," she said, noting that teaching gestures can also be part of dialect.  "It's almost impossible to separate the voice from the acting," she said.
Benson said she learns dialects easily, sheerly through mimicry.  Some actors can do that, too, but actors also learn the International Phonetic Alphabet to help them master dialects.
"Dialect tells so much about a character," Benson said.  "It gives clues to a person's origins, and also to the level of education, time lived away from home, when the language was acquired if it is meant to be a second language.  The important thing, though, is for the speaker to be understood."
Benson said she teaches dialects on the heavy side so they can be "dialed back" if necessary.  In this play, she said, actors came to their characters with different levels of acting and dialect experience.  In addition, with so many characters speaking so many different dialects, actors needed to be quite sure to have their dialects cemented into their characters so as not to fall out of dialect.
"Dialects are not characters," Benson said.  "I can't tell an actor how to do what they do.  But I can say you can use dialect to hook into a character."
Before any of this can start, though, the dramaturges have to get a head start.  Dramaturges are researchers and they are trouble-shooters.  For "Billy Budd," for example, ropes and knots were important.  But what ropes?  Which knots?  The dramaturges might be part of discovering not only that, but also what lighting might have been able aboard a 19th century ship? 
"I like to say the dramaturge lives in a space that includes literature and criticism, history, and production," Anne Fletcher, associate professor of theater and dramaturge, said. 
Ideally, she said, the dramaturge should begin research months in advance of the play's first rehearsal.  In reality, it doesn't always happen like that.  And sometimes months isn't enough -- she noted that she spent a year on research for a particularly complex production.
"Every play or production has its own set of challenges," she said.  "More important than specific skills -- and the list might be daunting -- is open-mindedness and a willingness to 'get behind' the director's vision."
Fletcher said a dramaturge researches but does not make artistic choices.  Still, the close involvement with establishing the milieu of the play makes the dramaturge very much a part of the production.
Morgan Kopczynski, a junior theater major, said she'd never even heard of dramaturgy before coming to SIU Carbondale.  A self-described history nerd, she found it the perfect avenue to combine her love of the stage and history.
Like the others involved in bringing "Billy Budd" to life, Kopcynski began with the script.  In fact, she read it three times before rehearsals even began simply to absorb it.  Ideas and concepts from early production meetings took shape in part with the research she, as a dramaturge, contributed, making the collaborative element particularly rewarding.
Larson agreed, saying, "What is so great about theater is that it is and must be a collaboration…  The director has a vision and guides the proverbial ship, but each person in a design meeting has a unique perspective to offer, and the show only begins to take shape once each person has shared his or her vision."
"A play is not a play until it is produced," Rush said.  "As long as the story is told, they can gussy up the costume and the set how they want for their own vision of the finished whole.  The pure joy, for me, is in seeing how what happens to my play in the hands of other people, seeing how they enlarge it and bring it to the stage."