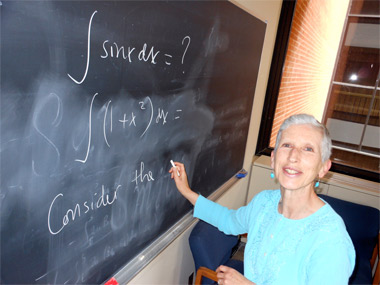 (Photos by Tim Crosby) 
April 25, 2012
Ten Questions With ... Mary Wright
Job on campus and department you work in:  Professor of mathematics and director of Undergraduate Programs for the Department of Mathematics.
How long at SIU Carbondale: Almost 32 years
Hometown:  Carbondale (now) 
When you were a youngster, what did you want to be when you grew up?  As far back as I can remember, I wanted to be a teacher or a nurse.
If you could choose another profession, what would it be and why?  It is hard to imagine choosing any other profession, but IF I did, it would probably be something in the medical field, but most likely NOT nursing!
What is one random fact about you?  I'm originally from England by way of Canada, but I am a U.S. citizen by birth.
What three things are at the top of your bucket list?  Cuddle a Koala bear, swim with dolphins and … maybe take an African photography safari (not that I know anything at all about photography)
What is your favorite way to spend a day?  A good long walk in beautiful weather anywhere in nature -- beach, mountain, forest, lake -- they are all good.  Oh, and it's OK if it's a walk on snowshoes. Winter weather is beautiful too.
What is the best advice you ever received?  Never let the perfect be the enemy of the good.
Favorite TV show (still running or ended)?  I am not much devoted to TV, but I have to say I liked M.A.S.H. and always enjoy Masterpiece Mystery.
What is your pet peeve?  Probably when a student misses class and then, when he or she returns and asks, "Did I miss anything important?"
If you could meet an historical person, who would it be and what would you talk about?  I would want to meet my favorite composer, Johann Sebastian Bach.  I would like to ask about his amazing polyphony -- was it inspiration? Or was it a lot of hard intellectual work?  I would also like to know what it was like being an organist at a time when church buildings had no such thing as central heating -- how on earth did he keep his hands warm enough to play all that amazing polyphony?
What would you like your gravestone to say about you?  "Further in and Further Up" This is a reference to the last of the books in the Chronicles of Narnia, by C.S. Lewis.  It portrays the end of life (or the end of time) as a step into something much bigger, better and brighter than what we know now.  I may not be quoting it correctly, but that is how I remember it right now.