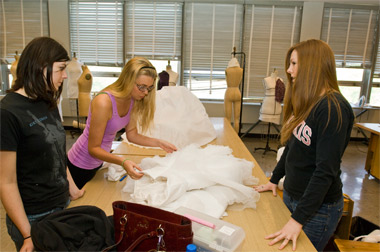 Getting the right fit -- Clara Aruajo, left, along with designer Ashley Riddle, center, and designer Tiffany Dunsing look over Dunsing's wedding gown from a collection that Dunsing will present Thursday, April 26, at Southern Illinois University Carbondale.  The collection is part of the annual Fashion Design and Merchandising program's Student Showcase and Fashion Show.  Dunsing, a senior from Lake Zurich, and Riddle, a senior from Springfield, are two of eight seniors who will showcase their designs.  Aruajo is a junior in geography and environmental sustainability from Yorkville, and is one of the models for the show.  (Photo by Steve Buhman) Download Photo Here
April 24, 2012
Students' fashion creations to take center stage
CARBONDALE, Ill. -- With the whirl of sewing machines nearby, Jessica Beck was working on one of her pieces for the annual student showcase and runway fashion show at Southern Illinois University Carbondale.
Few will know the tireless efforts that Beck and seven other featured designers in the Fashion Design and Merchandising program put into their original creations when models walk the runways beginning at 7 p.m., Thursday, April 26, in Student Center Ballroom D.  The last-minute preparations include finishing designs, coordinating models with outfits, and selecting music.
Admission is free, and the public is welcome.
The evening begins at 6 p.m. in the Student Center's J.W. Corker Lounge with junior-level fashion design students showcasing original garments they created through flat patterning and draping techniques.  Also included in the runway fashion show is the "2012 Red Dress Collection," by junior- and senior-level fashion designers.
"I think people think of the glamour, nobody really thinks of all the time that goes into putting a garment together," Beck said as she worked on a hem on one of the 14 pieces in her sportswear line.  "They just see 'Project Runway' on TV and it makes it look easy and fast, and it's really not.  It's a very labor-intensive major."
Beck and other students began designing their respective lines last fall.  Students will literally work on a line for a full year for about eight to 10 minutes of runway time, said Laura K. Kidd, fashion design associate professor.
Beck said that since she was little she always wanted to cut the sleeves off her shirts or cut holes in her pants and think, "This looks better."  The concept is the easy part, Beck said.
"Making it come together is the hardest part," she said.
"It's fun to watch them come up with their own ideas," Kidd said.  "I like to problem-solve with the students, where we stare at something and adjust a little here and adjust a little there.  It's nice they are all doing something different."
Katie Tillman of Edwardsville is using her love of the circus and a trip to Las Vegas where she saw "Cirque de Soleil" as the inspiration for her 15-piece line of jackets, dresses, pants, shorts, skirts and tops.  Another inspiration is the masquerade scene from "Phantom of the Opera."
Throughout elementary school, middle school and half of high school, Tillman wanted to be an astrophysicist based on her love of astronomy.  But then she joined the drama club, began working on costumes, and became hooked.
Tillman said she appreciates the program for the hands-on instruction by faculty. SIU Carbondale's Fashion Design and Merchandising program is the only one at a public university in Illinois with specializations in fashion design, fashion merchandizing and fashion stylist.
Tillman said a friend went to a private design school to earn an associate degree, but no one saw her final project but instructors.
"I believe I've definitely gotten more out of it," Tillman said.  "At the end of my fourth year all my work gets to be seen by others and these girls (her classmates) get to be the center of attention.  That's what we've worked for."
Tillman is utilizing her sister, Danielle, a graduate master's student in SIU Carbondale's College of Mass Communication and Media Arts, as one of her models.
Jessica Podraza of Chicago will present her line of fashion inspired by a London-based design company.  The clothing is post-grunge, and juxtaposes close-fitted and loose-fitting garments, she said.  Darker colors also utilize brighter colors for accent.
Podraza said she enjoys the use of 3-D technology in fashion design, and said her father always suggested she consider fashion design, which Podraza views as a "creative outlet."
'Sometimes I get a little philosophically challenged because of how the reputation is of being very materialistic and very shallow," Podraza said.  "But it almost feels like a guilty pleasure that you are living. It is art. There isn't any difference.  Just because it's the largest industry in the world doesn't mean that it's not art.  No one dresses to look bad."
Noelle Mathis of O'Fallon is putting together 14 different pieces that will comprise her eight outfits.  Her line, "Free Love," is the modern version of a "retro hippie line," Mathis said.
"I've always been interested in their lifestyle, just the way they lived and their free attitudes," she said.  "I wanted to change how people viewed them; the whole grungy and dirty style, and change it to a soft, girly, flowing kind of style."
Her fabric relies on browns and neutral colors and the design is flowing and carefree, said Mathis, whose musical selection for her models will include Led Zeppelin.
While the last few weeks are hectic for all of the students, Mathis said the project forces her to multi-task, make "tons of to-do lists," and set daily goals.  The experience will help her once she graduates, she said.
More than 125 students from majors all over campus are involved, including students from the University's Event Planning class, Kidd said.
The featured senior designers and the names of their collections, listed by hometown, are:
Illinois
Chicago: Jenna Podraza with ""Over-Exposed."
Chicago:  Erica Uzell with "Life of the Party."
Edwardsville:  Katie Tillman with "Cirque:"
Lake Zurich:  Tiffany Dunsing with "From This Day Forward."
McHenry:  Briana Donovan with "Tearing It Down."
O'Fallon:  Noelle Mathis with "Free Love."
Springfield:  Ashley Riddle with "Sirens of the Sea."
Georgia
Atlanta:  Jessica Beck with "City Chic."