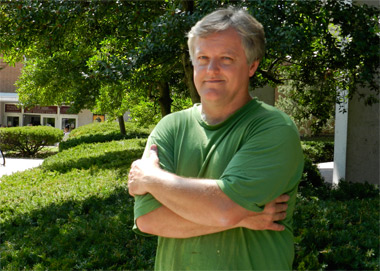 (Photos by Andrea Hahn)
March 28, 2012
Ten questions with ... Roger Trexler
Job on campus/department you work in:  Press Technician, Printing and Duplicating
How long at SIU Carbondale:  14+ years
Hometown: Jonesboro, Ill.
When you were a youngster, what did you want to be when you grew up? An astronaut. I remember getting up in the middle of the night -- much to my father's chagrin -- to watch Neil Armstrong walk on the moon.  I still look to the sky at night and wonder.  It keeps you young at heart.
People don't know that … I write things other than horror and comedy.  I actually like to diversify.
If you could choose another profession, what would it be and why? Film maker.  I've been toying around with films this year.  I'm not for everyone, and that's fine with me.
What is something you still want to accomplish in life? To feel enveloped in happiness and know that it is real and not an illusion.
What was the first "album" you ever bought, and was it an LP, 8-track or CD? Well, I didn't buy it per se… My eldest sister got Rush – 2112 from a record club. She hated it, and gave it to me.  It started my love affair with music.  And of course, it was on a good ol' 8-track tape.
If you could pick an actor/actress to play you in a movie, who would you pick and why?  Aidan Quinn, because people tell me I look like him.  I've also been told I look like Leonardo DiCaprio and Sylvester Stallone, so they'd be good choices too.
What is one random fact about you? I'm not really as pessimistic as I get accused of being.
What is your favorite food and why? Pizza… and why wouldn't it be?
Who has inspired you, and how? So many people.  As writers: Isaac Asimov and Ray Bradbury at first. Harlan Ellison. Stephen King (his output in the 70s in particular).  Teachers: Don Gamble, Lawrence Schramka.
What would you like your gravestone to say about you? Beam me up, Scotty.