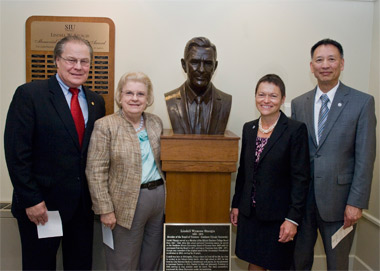 Unveiling – Pictured (from left) are Philip and Pamela Pfeffer and Chancellor Rita Cheng and Tom Cheng at the unveiling of a bust of Lindell W. Sturgis, Pamela Pfeffer's grandfather, in Anthony Hall on the SIU Carbondale campus.  (Photo by Russell Bailey) Download Photo Here
March 26, 2012
Bust of Lindell Sturgis unveiled in Anthony Hall
CARBONDALE, Ill. -- A bronze likeness of a key figure in the growth of Southern Illinois University is now on permanent display in the Carbondale campus' administration building.
Family members of the late Lindell W. Sturgis and University officials were on hand Thursday, March 22, for the unveiling of the bust on the first floor of Anthony Hall.  The ceremony followed the presentation of the annual Lindell W. Sturgis Memorial Public Service Award to John Erbes, interim director of the SIU School of Law Legal Clinic.
Sturgis was widely recognized for his commitment to public service and education.  He served as a member of the Illinois Teachers College Board from 1941 to 1949.  He served on the first SIU Board of Trustees after SIU attained University status in 1949, and was elected chair in 1969, serving in that role until his retirement from the Board in 1971.
In 1979, his family established an endowment to fund an award to recognize the contributions of an SIU Carbondale employee to his or her community, the area, state, or nation.
To further honor her grandfather, Pamela K. Pfeffer, along with her husband, Philip M. Pfeffer, commissioned a bust through sculptor Alan Lequire.  He sculpted the clay portrait at his Nashville, Tenn., studio, with bronze casting completed by the Sincerus foundry in Indianapolis, Ind.
At the family's request, the Sturgis bust, along with the plaque displaying the names of the recipients of the Sturgis award, are housed in Anthony Hall.
"The bust, and the plaque containing the names of the award recipients, remind us of our responsibility to our students and our communities," Chancellor Rita Cheng said.