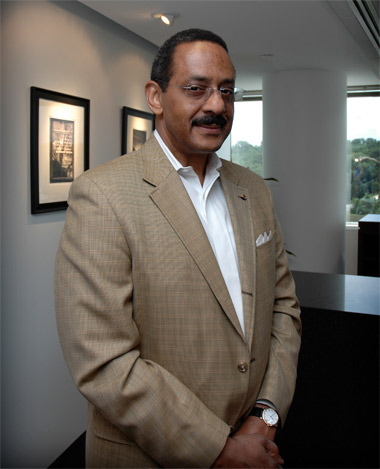 Guest lecturer -- Ed Jackson, Jr., the executive architect with the Martin Luther King, Jr., Memorial Foundation will present a lecture next week that focuses on the national memorial in Washington, D.C., that honors King's life and legacy.  An exhibit on the memorial that includes a 3-foot-high replica of the memorial's centerpiece, "Stone of Hope," will be in the Quigley Hall gallery through April 9.  (Photos courtesy of the Washington, DC Martin Luther King, Jr. National Memorial Project Foundation, Inc.) Download Photo Here
March 22, 2012
Executive architect for King memorial to lecture
CARBONDALE, Ill. -- The executive architect with the Martin Luther King, Jr., Memorial Project Foundation will present a lecture next week at Southern Illinois University Carbondale.
Ed Jackson, Jr., who directed the technical program management of design and construction for the national memorial honoring King's life and legacy, will speak at 6:30 p.m., Monday, March 26, in Lawson Hall, room 141.  Made possible by the SIU Student Fine Arts Activity Fee, admission is free and open to the public.
A reception will follow in the gallery in Quigley Hall, which features an exhibit on the memorial. It includes a 3-foot high replica of the memorial's centerpiece, "Stone of Hope," with King's image sculpted into the side of a mountain that is set apart from two mountain sides. The exhibit, including the replica sculpture, will be in the building gallery through April 9, said Peter B. Smith, an associate professor in the School of Architecture.
"We are excited about having Mr. Jackson here," Smith said.  "He's quite a dynamic speaker."
Jackson will present an in-depth history of the 28-year process of creating the memorial, said Mieko Preston, an associate architect with the national memorial project foundation.  Jackson will also share the vision and ideals -- carefully crafted and debated by design and cultural experts for more than 18 months -- that drove the project forward, she said.  The lecture will also be about King, the American dream, and the challenge of active citizenship that King left as his legacy, she added.
In addition to the lecture, Jackson will also be part of an informal forum with students in the gallery beginning at noon, Tuesday, March 27, to discuss the exhibit further, Smith said.
In his 15 years as executive architect for the memorial foundation, Jackson helped guide the King national memorial from "an abstract concept to reality," according to his biography.  He is also president of ArchD Consulting, Ltd., an architecture design and research firm in Falls Church, Va.  The firm's clients include NASA, the Pentagon, the Federal Emergency Management Agency, and the National Institutes of Health.  Prior to that, Jackson had more than 20 years experience as a health care architect and senior architect in the Office of the Surgeon General and the Office of the Assistant Secretary of Defense.
Jackson earned his bachelor's degree in architecture from the University of Illinois at Urbana-Champaign in 1973, and his  doctorate in architecture from the University of Michigan in 1993.