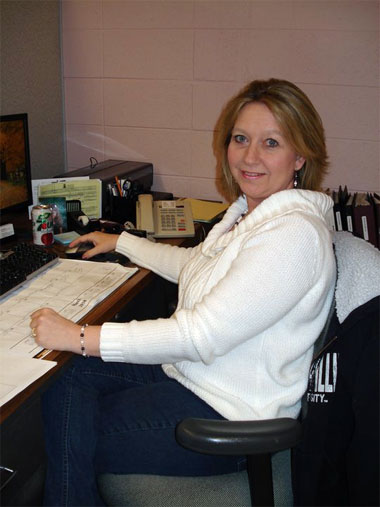 (Photos by Tim Crosby)
March 21, 2012
Ten questions with ... Kathy Rambeau
Job on campus/department you work in:  Program Advisor for Technology Off-Campus Degree Programs
How long at SIU Carbondale: Four Years
Hometown: Grew up in Jonesboro, Ill.; currently live in Anna, Ill. (the Lick Creek area)
When you were a youngster, what did you want to be when you grew up? A country music singer and a private investigator.
People don't know that you … Sang on the Grand Ole Opry about 20 years ago.  I sang "Amazing Grace" to a very large crowd.  It was truly amazing and what an honor to sing on that stage!
If you could choose another profession, what would it be and why?  Behavior analyst.  I would love to work with developmentally disabled adults and children as I have in the past.  I found it both challenging and rewarding.
What is something you still want to accomplish in life? Oh let's see … having a house plant that would stay alive for me and having all of the rooms in my house clean at the same time.  On a more serious note; recording a gospel CD and singing with the Gaithers.  I would like to accomplish a second master's degree as well. (maybe)
If you could pick an actor/actress to play you in a movie, who would you pick and why? Teri Garr -- I have been told that I look like her for as long as I can remember.
What is one random fact about you?  I am an Arizona Cardinals fan; go Fitz!! I am a Boston Celtics fan; Rajon Rondo rocks! 
What is your favorite food and why? Mexican….tacos, enchiladas, tamales, rice, beans, guacamole, salsa, etc…..I love the spice and all the flavors!!
Who has inspired you, and how?  So many … this one is tough because I get inspiration from many sources.  My church family and friends continue to inspire me on a regular basis, but I would have to say my husband has inspired me the most in the past few years.  He lost his brother 10 years ago and recently lost his sister to cancer.  Two of his siblings have passed at a very young age. My husband's faith in the Lord keeps him strong! He truly inspires me!
What is your pet peeve?  Oh goodness, how much space do I have?  1.  When my husband pauses the DVR while I am watching The Waltons!  2.  Milk left out on the counter  3.  and people who leave shopping carts in parking spaces!
What would you like your gravestone to say about you?  "Well done thou good and faithful servant … enter in! … No need to be sad; Heaven is my home!"