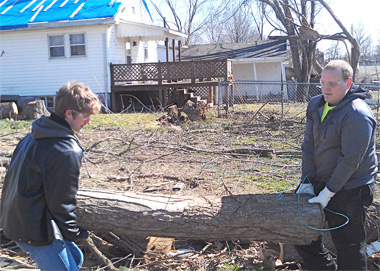 Saluki volunteers -- Dylan Noble, left, and Max Burke were among the SIU Carbondale students who helped with the tornado cleanup in Harrisburg on March 3.  Both are members of the College of Engineering's Leadership Development Program.  (Photo provided) Download Photo Here
March 08, 2012
Students, faculty to offer design help in Harrisburg
CARBONDALE, Ill. -- When there is a need, Salukis are quick to respond, and the response has been strong, swift and growing in the aftermath of the deadly Feb. 29 tornado in Southern Illinois.
Starting with the efforts of campus police officers who went to the scene in response to a mutual aid request, Southern Illinois University Carbondale students, faculty and staff have donated time, energy, money and supplies to help the Harrisburg community of 9,000 hit by the EF4 tornado as well as nearby areas also affected.  The support is still growing, and now involves not only helping with immediate needs but also assisting residents in recovery, to rebuild and return to normal life.
"I am very proud of the commitment of our students, faculty and staff to helping our friends and neighbors in Harrisburg," Chancellor Rita Cheng said.  "Whether they are helping in the community, or donating money or much-needed items, the members of our University community are upholding our longstanding tradition of reaching out to those in need."
The School of Architecture announced that a team of students and faculty will be in Harrisburg offering free residential design services to families in the area beginning Saturday, March 10, and continuing through Saturday, March 17.  The team will be at the Harrisburg Public Library each day from 9 a.m. to 3 p.m. according to Jon Davey, architecture professor, interior designer and E.J. and Mary C. Simon Distinguished Faculty.
Team members will meet with area residents whose homes were damaged or destroyed.  Residents with pictures of their home may bring them along.  The architects and architects-in-training will visit the home sites, take pictures and collect information including locations of utilities, property lines, trees, driveways and sidewalks, and other data.  They'll evaluate what remains and then, based on interviews with the families and assessment of what still exists, create for them working drawings to repair or replace the ravaged homes.  The new plans will be similar to the designs of the former homes but will utilize sustainable concepts and solutions, Davey said.  Faculty will supervise all plan creation.
"We will print the drawings and recommendations so families can have them as they talk to agencies providing rebuilding funds, insurance agents and contractors who will rebuild their damaged or destroyed homes," Davey said. 
Davey said Harrisburg architecture student Whitney Fulkerson has been working with him and Harrisburg Mayor Eric Gregg, an SIU Carbondale alumnus, to set up this community service project.  Numerous students and faculty will be spending spring break helping in the Harrisburg area. 
Davey said the goal is to offer a valuable service to families at this early stage, to help them plan and begin preparing for the future.  He said he hopes the architecture design team can be an ongoing program, helping where needed while providing a valuable hands-on, community-based design-build learning experience for students. 
To learn more about the architecture residential design assistance, contact Davey at jdavey@siu.edu or by calling 618/453-3734 or 618/559-8931.
Also, a group of 30 Saluki football players and coaches boarded a bus on Tuesday, March 6, and traveled to Harrisburg to assist residents with the ongoing clean-up effort.  Mark Scally, associate athletics director, said Cavello Bus Line donated the bus use and Custom Tours and Travel covered fuel expenses so the athletes could spend the afternoon providing assistance. 
The players took with them a half-dozen laundry bins filled with donated non-perishable food and other items for members of the community.  Donations collected during the Coach B Classic softball tourney March 3-4 filled the bins.
In addition, the University has added a link to its website, www.siu.edu, allowing people to make donations to the Southern Illinois Community Foundation's Harrisburg Disaster Relief Fund.  People can make donations to the fund at all branches of the following banks:  Bank of Marion, Peoples National Bank, Legence Bank, Farmer's State Bank, First Southern Bank, Bank of Carbondale, Regents Bank, Banterra Bank and Old National Bank.  Make checks payable to Southern Illinois Community Foundation (SICF) and note that it is for the Harrisburg Disaster Relief Fund. 
Or, you can make tax-deductible donations by clicking the link the on University's website, in the lower right hand corner under "Noteworthy."  Call 618/997-3700 or visit www.sicf.org for more information.
Within no time at all after the storm hit, a variety of assistance efforts launched on campus and they continue.  A large group of volunteers, largely comprised of students, traveled to Harrisburg on Saturday, March 3.  Led by administrators and faculty, they spent hours on site clearing debris and doing whatever they could to help with storm recovery under the direction of the Disaster Relief Center. 
So far, students, faculty and staff have contributed 492 hours of direct service to Harrisburg, according to Mythili Rundblad, coordinator of service-learning and volunteerism.  She said a dozen members of the College of Engineering's Leadership Development Program and Bruce DeRuntz, professor of technology and director of the LDP program, each put in long 10-hour shifts on March 3. 
Many other Salukis responded to the need individually or in groups.  Kimberly Asner-Self, associate professor of educational psychology and special education; Craig Anz, associate professor of architecture; and Nicholas Pinter, professor of geology, are lending their professional expertise to support Harrisburg families and neighborhoods and assisting with the rebuilding of the community.
Donation boxes are also in place at a number of locations on campus and will remain there at least until Friday, March 9.  Donations have been pouring in and already organizers have taken 35 full boxes to the Newman Catholic Center for distribution.  In addition, the University's New Student Programs has donated T-shirts, water bottles and other items. 
You can place donations of non-perishable food items, bottled water and toiletries in boxes available at:  Agriculture Building Room 200; Rehn Hall Room 113; Student Center, in the area under the north escalator and across from the Information Center; Student Recreation Center, near the equipment desk; Trueblood Hall, near the dining room; Lentz Hall, near the dining room; Colyer Hall on Greek Row and Evergreen Terrace, near the laundry room.
Rundblad encourages students and faculty who wish to learn more about volunteer opportunities, or to log their volunteer hours, to stop by the Office of Service Learning and Volunteerism on the third floor of the Student Center.