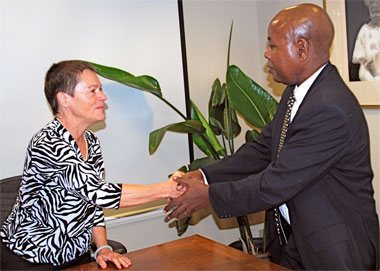 March 01, 2012
SIU Carbondale, University of Botswana sign pact
CARBONDALE, Ill. -- Southern Illinois University Carbondale signed an agreement this week with the University of Botswana that will provide cultural, educational, research and exchange opportunities for students and faculty at both institutions.
Chancellor Rita Cheng signed the five-year Memorandum of Understanding with John Kiggundu, a professor who teaches law and business at the University of Botswana, present.  Thabo Fako, vice chancellor of the University of Botswana, will sign the memorandum of understanding (MOU) upon Kiggundo's return home.  Also present for the ceremony was Mark F. Schultz, an associate professor at the SIU School of Law.
The linkage agreement provides for both SIU Carbondale and the University of Botswana to encourage student exchanges, along with an exchange of faculty members to teach, lecture and conduct research.  It also allows both parties to explore distance-learning opportunities.
"This agreement provides a great opportunity for both institutions," Cheng said.  "The international focus that many of the law professors provide adds a dimension to our law school that is unique."
The MOU is not limited solely to faculty and students in the law school, and can accommodate other departments and studies.
"It is through relationships such as this that we are able to enhance cultural understanding, which is essential in our global society," Cheng said.  "Faculty and staff from both universities will benefit from new collaborations and the exchange of new knowledge.  We are pleased to partner with the University of Botswana." 
The agreement will enable the University of Botswana's Department of Law and the university overall to achieve its mission of excellence in teaching, research and learning, Kiggundu said.
"This MOU will be another step in achieving the mission and vision of the University of Botswana as far as teaching, learning and research is concerned," he said. "It will benefit both SIU and the University of Botswana because in order to achieve excellence you need that international dimension.  And we are getting our international dimension with the right University, the right faculty and the right department."
Schultz has been to the University of Botswana twice, including presenting two public lectures there.  Schultz said he hopes to bring a group of law students to Botswana within the next year, and use it as a pre-cursor for a summer study-abroad program for law students.
"We think there is a great opportunity for them to do externships at NGOs (non-governmental organizations) in Botswana.  I think that would be a really distinctive offering to have for our law school that other law schools do not have," he said.
SIU Carbondale has approximately 70 active linkage agreements with universities in 29 countries, including Botswana. Yi Lee, the University's international partnership coordinator of international development, noted that SIU Carbondale has very few agreements with universities within the African continent.
"It represents a very strategic memorandum of understanding in the MOUs we've cultivated over the years," he said.
Kiggundu is on campus this week to present lectures to classes at the law school  He is also the featured speaker for a panel discussion, " Good News From Africa: Success Stories in African Development, Democracy and Culture."  The event is at 5 p.m. today (March 1) in the SIU School of Law courtroom, room 108.
The discussion will also include SIU Carbondale faculty Frank M. Chipasula, a professor in Africana Studies who is originally from Malawi; Leonard K. Gadzekpo, an associate professor in Africana Studies who was born in Cote d'Ivoire and grew up in Ghana; and Uche Onyebadi, an assistant professor in the School of Journalism, who is originally from Nigeria.