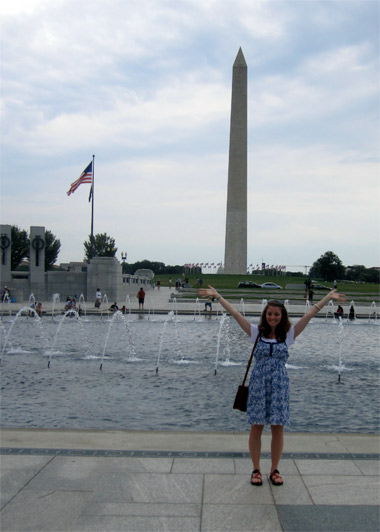 Saluki on the National Mall  – Graduate student Makayla Trotter of Macomb is the first student from Southern Illinois University Carbondale to earn an internship at National Geographic.  Her paid internship ran from September to December 2011. (Photo provided)
February 29, 2012
National Geographic intern: Don't be afraid to try
CARBONDALE, Ill. -- When she first arrived in Washington, D.C., to begin her internship, Southern Illinois University Carbondale student Makayla Trotter was prepared to fetch coffee, run errands, whatever, because, well, she was at National Geographic and that in itself was a dream come true.
The dream got better when she realized that she was assigned real duties -- projects, as she said, that she could "put her name on."
Trotter, a geography and environmental resources graduate student from Macomb, recently earned her bachelor's degree from SIU Carbondale.  She is the first Saluki to earn a National Geographic internship, and she was one of nine paid interns selected from a national pool of applicants.  The internship ran from Sept. 6 through Dec. 16, 2011. 
"National Geographic is a really good place to work," she said.  "The employees have a sense of fulfillment, and that's because of the mission of National Geographic."
Trotter worked in the education division, where the main mission, she said, is promotion of geographic literacy, including knowledge of ecosystems and how they work.  Her responsibilities included uploading research tools intended for elementary and high school teachers.  She learned HTML coding for that part of the job.  She also accessed the vast National Geographic digitized photograph archives.  For another project, she contributed to research for a map of Hopewell cultures.
"National Geographic treats their interns like staff," she said. "That's a rare thing to find."
The projects helped convince Trotter that she wants to pursue her passion for sustainability education and campus sustainability.
"Right now, sustainability is a buzzword," she said.  "That makes me nervous because buzzwords have a tendency to fade.  Sustainability, though, includes concepts that are attractive to universities.  The triple bottom-line is: environmental health, social justice and economic efficiency.  For a university, that means that improved sustainability could help them improve the quality of education and the quality of the work environment, can help them meet their mission of education and world improvement and save them money all at the same time."
Another benefit of the internship, Trotter said, was confirmation that her choice of major was the right one for her.
"I did get some questions when I chose my major -- questions about what I would do with a major in geography," she said.  "It is a strange area to a lot of people.  There is no standardized test for geography, and in high schools it falls under social studies or under science."
Trotter said her moment of confirmation came during Geography Awareness Week, when she and other interns were part of a briefing to a Senate committee about a bill, "Teaching Geography is Fundamental," that supports funding of teaching geography in public schools. Trotter said the briefing included members of the military and representatives from Google as well as legislators -- all in support of the importance of teaching geography to elementary and high school students. 
Trotter has always been one to take advantage of opportunities.  Early on, she jumped at the chance to work as an undergraduate research assistant with Matthew Therrell in the geography and environmental resources department.  She also participated in a study-abroad program offered through SIU Carbondale, expanding it as part of her undergraduate research job.
Still, she said that, even though she has been a starry-eyed fan of National Geographic since childhood, she almost didn't apply for the internship.  The description of the internship, she said, didn't seem to fit her. Yet, when she arrived for her internship, she discovered that many of the interns had backgrounds and interests similar to hers.
She took away two lessons from that, she said.  One, she realized her education at SIU Carbondale prepared her to stand toe to toe with students from larger, more affluent institutions, including private East Coast universities.  Two, she was rewarded for taking a chance and applying.
Her advice to fellow students considering applying for a prestigious internship or scholarship? 
"Just go ahead and do it," she said.  "They can't take anything away from you just because you applied.  And don't be deterred by the description if you don't feel you match exactly.  You may have other talents they are looking for -- you never fully know what they are looking for from a short description."
Trotter said curiosity and a willingness to try new and different things have always been part of her personality.  She urged students to take chances, not just with internships and scholarships, but also with other opportunities where the rewards may seem less tangible.
"One thing all the National Geographic interns had in common was that we'd been abroad," she said.  "I traveled through SIU, but also in high school and through my church.  Those opportunities contributed to this opportunity. 
"But also, the undergraduate research job I held did as well, because I developed relationships within the department," she said.  "Most of the opportunities I've learned about here I've gained from faculty telling me about them.  I would definitely say students should get to know the faculty in their department -- they have office hours for a reason.  And don't be afraid to try something -- following up on a job or an internship doesn't commit you for the rest of your life.  You can always quit.  But you don't know where the opportunity might take you if you don't pursue it."
Here is a link to the story that appeared when Trotter first accepted the internship: http://news.siu.edu/news/February11/020311amh11019.html.