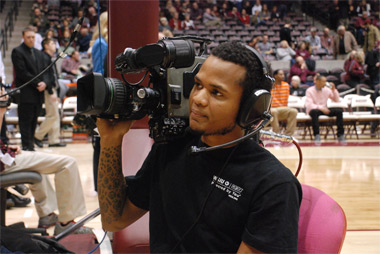 National media award recipient -- Nicholas Gresham, a senior in radio-television at Southern Illinois University Carbondale, earned top honors for "Best Sports Story" in the Broadcast Education Association's Festival of Media Arts competition.  Gresham, who is from Chicago, is sports producer of WSIU-TV's River Region Evening Edition, and won for his story, "All-Access: Saluki Practice."  (Photo provided) Download Photo Here

February 27, 2012
Student, faculty member capture broadcast honors
CARBONDALE, Ill. -- Southern Illinois University Carbondale's Department of Radio-Television continues to earn top industry accolades with strong showings in the Broadcast Education Association's (BEA) Festival of Media Arts competition.
Nicholas Gresham, a senior in radio-television from Chicago, earned top honors in the national competition for ""Best TV Sports Story" in the organization's student division.
In addition, Jan Thompson, an associate professor in radio-television, earned several awards in the BEA faculty division for her documentary, "The Tragedy of Bataan."  Narrated by actor Alec Baldwin, the documentary features accounts of more than 20 Bataan Death March survivors.  A five-piece companion radio series earned "Best of Festival" honors in the Faculty Audio competition; the documentary earned an "Award of Excellence" in the "Short Form" category; and received "Best of Competition" in the Interactive Media "Documentary/Promotional/Informational" category.
"Having each work recognized will hopefully bring the focus on the heartbreaking events in the Philippines during the early months of World War II," Thompson said.  "As a filmmaker, it is gratifying to be recognized for one's work, but it's far more important that the story of these men's suffering and heroism be widely known."
Thompson said she was also fortunate to work with Kelly Caringer, a doctoral student in Mass Communication and Media Arts, who helped create the sound design for the radio pieces, and Robert Spahr, an assistant professor in cinema and photography, who helped lay out and code the website.
"Nick Gresham and Jan Thompson are great examples of the talented students and faculty we have in our programs in the College of Mass Communication and Media Arts," said Dean Gary P. Kolb.  "They represent what creative and motivated media makers can achieve given the support they need.
"Nick's winning sports segment is a testament to the quality product our students create for broadcast on WSIU's River Region Evening Edition," Kolb said.  "Jan's 'Tragedy of Bataan' documentary is a personal and professional achievement of note and great meaning for the veterans of that terrible experience.  It reveals the depth of tragedy as has never been before brought to light."
Gresham, formerly of Hyde Park, is sports producer of WSIU-TV's River Region Evening Edition newscast, and won for his story, "All-Access: Saluki Practice."  The story, which aired Dec. 1, 2011, on WSIU-TV's "Saluki Sportsview," gave viewers a "rare, behind-the-scenes view of an SIU men's basketball practice" that relies on state-of-the-art visual techniques, professional quality photography, and compelling sound, said Gregory A. Todd, River Region Evening Edition news director.           
"Nick demonstrates once again the uniqueness of our program," said Dafna Lemish, professor and department chair.  The program "offers students an opportunity to experience high quality, professional, real award-winning media work while at the same time getting a substantial academic education of high value," she said.
Gresham will graduate in May.  While "thrilled" about earning the award, Gresham said it's not about him.  He gives much credit to WSIU, the College of Mass Communication and Media Arts,  the Saluki men's basketball program, Coach Chris Lowery, and WSIL-TV 3, the region's ABC affiliate, where he has also worked.
"I think we get lost in the competitive nature of sports and the demand for the win that we lose the human aspect and connection of the people who are out there deciding the contest," he said.
"Fans don't get to see that; fans don't get to hear about these guys doing good deeds," he said.  "I would not have this award without the players and coaches' efforts."
The awards ceremony is in April at the Broadcast Education Association's annual conference, which runs April 15-18, in Las Vegas.  Gresham's award-winning video is available at rtv.siu.edu/rree/index.php?option=com_k2&view=item&id=213:evening-editions-nick-gresham-wins-national-honor&Itemid=105 - itemVideoAnchor.
Gresham is "yet another example of how the combination of an excellent education at SIU and hands-on experience with our state-of-the-art broadcasting facilities can have a student attaining great success even very early in their career," Todd said.
Gresham is a "great mentor to younger students, sharing with them the knowledge and skills he has learned while in the SIU Radio-TV program," Todd said.  "Students like Nick go on to join many SIU Radio-TV graduates who are at the top of the broadcasting industry from coast-to-coast and beyond."
Evening Edition is a student-produced local newscast that airs at 5 p.m. Monday through Thursday, when the University is in session.  More than 100 students work on the production, gaining valuable work experience in television newsroom, studio, and control room facilities while supplementing their studies.