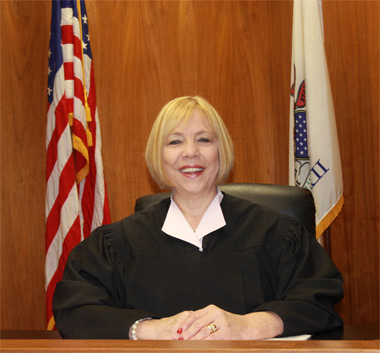 February 17, 2012
Judge Carolyn Smoot to share experiences
CARBONDALE, Ill. -- The first female circuit judge in Williamson County history will discuss her life and career next week at Southern Illinois University Carbondale's Paul Simon Public Policy Institute.
First Circuit Judge Carolyn B. Smoot will also discuss her views on running for political office on Tuesday, Feb. 21, at 5 p.m. in the Institute lobby, 1231 Lincoln Drive, in the old U.S. Forestry Building.
The presentation is a "Pizza and Politics" event at the Institute, and part of the "Women in Politics" series.
---
Media Advisory
Reporters, photographers and camera crews are welcome to attend the session with First Circuit Judge Carolyn B. Smoot. For more information, contact Matt Baughman, associate director, at 618/453-4009, or 618/201-0082.
---
Smoot's career path is one "that can provide guidance to other women, particularly young women," said David Yepsen, Institute director.
"The judge has successfully negotiated many of the obstacles facing women in politics, public service, and her insight about how to do that should be helpful to others," he said.  "We're glad she is taking the time to share some of those lessons and observations with others as part of our 'Women in Politics' series.  Like politics, the legal professions also have their glass ceilings that impede women.  Judge Smoot has shown how to crack them."
The event is free, but Institute officials encourage registration.  To register, contact Institute project coordinator Carol Greenlee at 618/453-4078 or by email at cgreenlee@siu.edu.
In November 2010, the Illinois Supreme Court unanimously appointed Smoot as resident circuit judge for Williamson County to replace retiring Judge Ron Eckiss.  Smoot was chosen in an application process that included review by a six-member screening committee comprised of local attorneys and retired judges appointed by Supreme Court Justice Lloyd A. Karmeier, who recommended Smoot to the court. Smoot was sworn in as judge in December 2010, becoming the first female circuit judge in the county's history.
Smoot will discuss her experiences in the process of running for office.  She is seeking a six-year term, and is unopposed in the Republican primary in Williamson County on March 20.  She will face a Democratic opponent in the Nov. 6 general election.
"I recommend that candidates be true to themselves when they run," Smoot said.  "You really have to run your own campaign."
A 1983 graduate of the SIU School of Law, Smoot's 27-year legal career included work as an assistant state's attorney in Williamson County, and a private practice focusing on family law, probate law, mediation and adoptions.  From 1990 to 1998, Smoot taught part-time in the SIU Carbondale Paralegal Studies Program, becoming program director in August 1998.
Prior to attending law school, Smoot worked for the Illinois Department of Public Aid.  She earned her bachelor's degree in social work from Olivet Nazarene University in Kankakee.  Smoot and her husband, Charlie, live at the Lake of Egypt.  The couple has three children and six grandchildren.           
For more information on the program, contact the Institute at 618/453-4009 or visit paulsimoninstitute.org/.