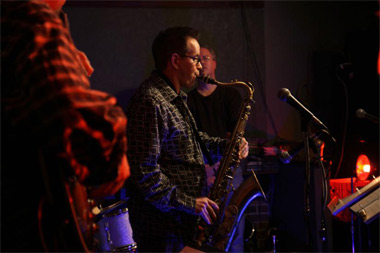 February 17, 2012
Young jazz musicians to display their talents
CARBONDALE, Ill. -- Jazz for all.  That could almost be the theme of the 2012 SIU Jazz Festival, hosted by the Southern Illinois University Carbondale School of Music.
The event will bring to campus 200 or so area high school and junior high school students, many of them members of their schools' jazz ensembles.  This year, the School of Music extended a special invitation to other music students to attend master classes taught by SIU Carbondale faculty, giving them an opportunity to learn about jazz and to gain an appreciation both of it as a musical form and also as a potential outlet for their own musicality.
The event is Feb. 25.  Jazz fans are welcome to attend the free concert concluding the festival.  The concert and an awards ceremony begin at 6 p.m. in Shryock Auditorium.  Feature performers are the SIU Studio Jazz ensemble, an SIU Carbondale School of Music student ensemble, and guest artist Mark O'Connor on saxophone.
O'Connor, a native of Austin, Texas, but a part of the Chicago and Milwaukee music scenes for more than a decade, conducts clinics throughout the United States.  His debut recording, "Mirage," was on the national jazz radio charts for eight weeks, and earned critical acclaim. 
The School of Music faculty ensemble, the New Arts Jazztet, will join O'Connor in a lunchtime master class at noon.
Richard Kelley, coordinator of jazz studies and lecturer in saxophone, organized this year's event.  He said the festival fulfills several purposes, including preserving and disseminating jazz music.  However, the competitive nature of the festival also gives young musicians a goal and a friendly atmosphere in which to strive to be the best, or better, at least, than they were before the festival.  Finally, Kelley noted, events such as this jazz festival help to cultivate "responsible cultural citizens," a necessity, he said, if we as a people expect quality in the arts to continue and flourish.
"I believe most (of the students who attend this festival) are very in tune with jazz music, though most do not realize they are," Kelley said.  "Jazz is the creative force behind many American music styles: rock, pop, hip-hop, and funk, to name a few.  The expansion and cultivation of the jazz idiom over the last 100 years has highly influenced these similar music genres."
Kelley said he hopes students will understand that jazz is alive and well, partly because of the willingness of its musicians to adapt, and to accept influences from other musical genres even as it influences those same genres. 
"I hope that students will give this music a chance and not dismiss it as 'dead' music or something that only their grandparents listen to," he said.  "These young musicians are giving up their Saturday to play jazz music.  There must be something attractive about the music for them to do that."
He noted that some students who are open to "indie" music -- or who at least don't listen exclusively to the dictates of corporate music outlets -- might be open to the improvisational nature of jazz, and the musicianship of those who play it.
"Art is meant to be enjoyed," he said, adding a welcome to the Southern Illinois community as a whole.  "Come out and hear some talented young people play great music.  If you don't like it, at least you can say you gave it a chance."
Jazz ensembles from each school will have a performance time, followed by a clinic with jazz experts.
Here is a list of participating schools, and their scheduled performance times.
Marion High School -- 8:30 a.m.
Murphysboro High School -- 9 a.m.
Cape Central Middle School -- 9:30 a.m.
Marion High School Combo -- 10 a.m.
Benton Middle School -- 10:30 a.m.
Cape Central High School -- 11 a.m.
Dexter High School Combo -- 2:30 p.m.
Jackson Big Band -- 3 p.m.
DeSoto (Mo.) High School -- 3:30 p.m.
Sesser-Vallier High School -- 4 p.m.
Dexter High School -- 4:30 p.m.
Jackson Jazz Ensemble -- 5 p.m.
SIU Carbondale School of Music faculty leading master classes include: Bob Allison, trumpet; Ed Benyas, oboe; Ron Coulter, percussion; Catie Hickey, trombone; Richard Kelley, saxophone; Melissa Mackey, bassoon; Eric Mandat, clarinet; Clinton McCanless, tuba/euphonium; Jennifer Presar, horn; and Douglas Worthen, flute.