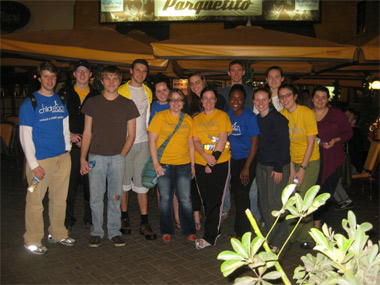 SIU Carbondale students in Peru -- Southern Illinois University Carbondale students, former and current, who participated in the Childreach service trip to Peru included, back row, from left:  Jonah Gorski (program manager for Childreach International), Jordan Myhre, Josh Hrdlick, Kelsey Fuller, Amanda Leibovitz (project director for Childreach International), Charlie Sedig, Megan Hoelscher. Front row, from left: Michael Jarnebro, Emily Boyer, Rebecca Dull, Alec Perry, Jessica Brunner, Olivia Coker and Mary Pettrizzo.  (Photo provided) Download Photo Here
January 30, 2012
Students inspired by service-learning trip to Peru
CARBONDALE, Ill. -- It's not every day you get the chance to truly change people's lives for the better, but a group of students from Southern Illinois University Carbondale got to do just that recently.
Participating in a service trip during the break between semesters, the first American group to travel to Peru through Childreach International put in countless hours of backbreaking labor planting fruit trees.  But, they said the hard work was more than worth it, not just because of the heartfelt thanks of the local villagers, but because they discovered that, as the old saying goes, it's better not to just feed people for a day but to help them feed themselves for a lifetime.
Each morning, the SIU Carbondale students awoke to a "gorgeous" view, smack in the middle of the Sacred Valley in the Andes Mountains, according to Kelsey Fuller, president and coordinator of the campus chapter of Childreach International and leader of the Peru expedition.   In South America from Dec. 27 through Jan. 9, they camped in tents in Cachijata, in Peru's Ollantaytambo region.  Each morning they walked about 10 minutes downhill to reach their work sites and at the end of each exhausting day, they trekked about 30 minutes back uphill.
Laboring alongside local residents with just shovels and pickaxes as tools, the University students dug large holes and planted trees, about 500 in all.  The group actually took about 1,000 trees, paid for with funds they raised.  Planting continued by local residents after the students returned to the U.S.
"The most difficult part of the job was digging the holes with just shovels and pickaxes.  In the United States, there are more efficient tools that would have made the job much easier and quicker.  This experience sure made me appreciate everything I've been given in the U.S. that makes my life simpler," said Jessica Brunner, a junior plant and soil science major from Stockton.
Brunner's team members agreed that the venture was life changing in many ways.
"This was an eye-opening experience for us, to see what people go through to make a living, making it day by day.  Agriculturally, the community members have whatever they need in their backyards.  The convenience of being able to go to the grocery store and have washed fruits and vegetables available really makes me realize how lucky we are to be living so easily.  I think we all have more gratitude toward farmers now.  This trip was a reality check and made me very grateful for all I have," Fuller said.
Fuller said many of the people in the agricultural community rely largely on what they grow for sustenance.  That's where Fuller and her fellow students came in, bringing hundreds of hearty, durable, sustainable fruit trees.  They planted them in people's yards and within three years, the trees will mature and provide peaches and apples that the residents can harvest and sell, bolstering their income for many years to come.
"They were so grateful.  Their faces lit up and they couldn't stop thanking us.  The families and children gave us drinks and snacks.  They were so welcoming, so appreciative," Fuller said.
Sunburn, blisters, and calluses were frequent companions for the students.   Thanks to numerous aches and pains resulting from their hard work, they discovered muscles they never knew they had.  
But, during breaks in their planting, they enjoyed socializing with the Peruvians and playing soccer with the local children and helping them with their English skills.  While most of the more fluent conversations took place in Spanish, the students also picked up some Queachuen, the native dialect that has no written form, Fuller said.
Three shy, young Peruvian girls were frequent visitors to the planting sites, according to Fuller, but initially they were rather quiet.  Eventually though, "they opened up and shared with us.  It made such an impact on my heart.  They were so happy and so grateful for what we were doing for them.  To us, it was trees. To the people there, it was life support," Fuller said.
The inspiration for the service trip came when Fuller accompanied Peter Gitau, associate vice chancellor and dean of students, on one of his service/learning abroad trips to Kenya.  She said her experience piqued her interest in serving others and working with non-profit organizations.  That led her to the global organization, Childreach International, eventually hatching plans for the University's chapter to go to Peru.  The young people raised more than $50,000 to fund their trip and purchase the trees for planting. 
"As a student I think it's so important to have a study-abroad experience.  It makes you so much more globally conscious and helps you realize there is so much in this world that needs to be seen, heard and done," Fuller said.
Amazing.  Difficult.  Inspirational.  Eye-opening.  Rewarding.  These are just a few of the words the students used to describe their adventure. 
"I've always wanted to travel and this was a great opportunity to volunteer and travel the world at the same time," Brunner said.  "Traveling the world is a great experience if it is done at your leisure, but when you get involved with the community at a personal level, it gives you a much better understanding of the people of a culture.  I had never left the United States before, but after seeing this much of the world, I've realized there is so much more out there waiting for me to discover."
The trip was memorable in many ways, the participants said.  They managed to squeeze in a visit to the Incan site Machu Picchu and found it quite awe-inspiring.  But, some of the more ordinary parts of the visit were also some of the most special, they said.
"I really enjoyed spending time with everyone on the team.  I have great memories just from eating meals with them and working all day with them.  I also really enjoyed playing soccer with the local people," Brunner said.
The last night, the appreciative Peruvians hosted a community dinner in honor of their guests, completed with chichi, a fermented corn and spice drink, and much song, dance and socializing.
"It was a great cultural experience and a lot of fun with community members and friends," Fuller said. 
Current and former/graduating students participating in the Peru service trip, listed by hometown with major and year at the University as of December, were:
Chicago
            •  Alec Perry, graduate student, communication disorders and sciences
Decatur
            •  Emily Boyer, senior, Spanish
Effingham
            Megan Hoelscher, senior, civil engineering.
Elk Grove Village
            •  Kelsey Fuller, sophomore, undecided
Fox River Grove
            •  Michael Jarnebro, junior, philosophy/international studies/political science
Geneva
            •  Josh Hrdlick, junior, communications
Morrison
            •  Charlie Sedig, a former therapeutic recreation major
New Lenox
            Mary Petrizzo, junior, anthropology and social work
Peoria
            •  Olivia Coker, sophomore, art education
Rockford
            Rebecca Dull, senior, marketing
Stockton
            •  Jessica Brunner, junior, plant and soil science
Colorado
Aurora
            •  Jordan Myhre, senior, physiology and Spanish
Accompanying them from Childreach International was Amanda Leibovitz, project director, and Jonah Gorski, program manager.
Fuller said plans are already in the works for a return trip to Peru as well as for a summer 2012 service trip to Tanzania.  University students and community members are welcome to get involved.  Each of those traveling to Tanzania for the service trip will be raising about $4,000 to cover travel expenses and costs for the project they'll undertake there.
To learn more, visit the Childreach website at www.childreachusa.org or email fundraising@childreachusa.org.  Or, to find out about the University's Childreach RSO or helping members fund their service efforts, contact Fuller at kmfuller@siu.edu.  Jeannie Killian, development skills training specialist at the Center for Academic Success, is the group's RSO adviser.
Students seeking information about service opportunities locally or abroad can contact Mythili Rundblad, coordinator of service-learning and volunteerism for Student Life and Intercultural Relations, at Rundblad@sdev.siu.edu or by calling 618/453-5714.