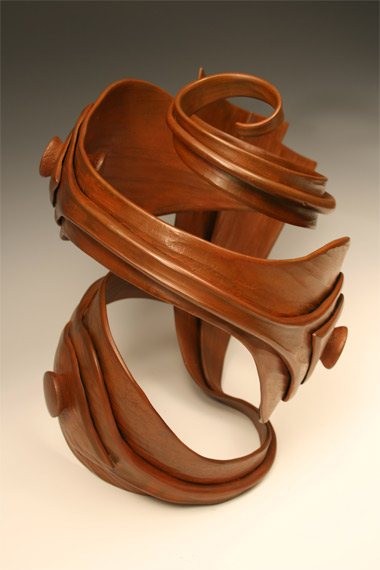 January 20, 2012
Museum announces spring exhibit schedule
CARBONDALE, Ill. -- Spring 2012 brings a focus on materials for some of the prominent exhibits scheduled at Southern Illinois University Carbondale's University Museum. 
From a traveling exhibit featuring some of SIU Carbondale's blacksmithing stars to an exhibit of recycled materials turned into art to an exhibit combining painting and theater set design, this spring's exhibit schedule invites viewers to explore the different uses to which artists put materials.
Here is a schedule for the semester.  The multi-gallery museum, and the museum store, is open 10 a.m.-4 p.m., Tuesday through Friday, and 1-4 p.m., on Saturday.
Jan. 20-March 9 -- Iron: 2010
Iron: 2010, so called because the exhibit launched at the National Ornamental Metal in Memphis, Tenn., in 2010, features pieces from SIU Carbondale metals artists, including: L. Brent Kington, blacksmithing program founder and the man after whom the metal forge is named; Rick Smith, currently the blacksmith go-to in the School of Art and Design; alumni John Medwedeff, Adam Hawk, Bill Price, and Stephen Yusko; and graduate student Joshua A. Goss.  This exhibit demonstrates why SIU Carbondale holds the prominent position it does in the metalsmithing community.  The exhibit includes large sculptural pieces, models of larger, site-specific pieces, and smaller art pieces.
Jan. 20-April 18 -- Patrons' Favorites, Selections from the Museum's Collections
There is a scene many people remember from the movie "Raiders of the Lost Ark" in which the Ark of the Covenant is boxed and hidden in the storeroom of the Smithsonian National Museum archives.  The University Museum archives aren't quite that extensive, true, but wandering through them yields plenty of treasures.  Museum patrons get a chance to do that annually, and what's more, they also get to select one or two goodies from the bunch to create the Patron's Favorite exhibit.  The end result is an eclectic mix of pieces chosen for any of a variety of reasons:  connection to the Southern Illinois region, as representative of University history; a personal connection; whimsy.  With more than 70,000 items to choose from, patrons can always find something, often a something that hasn't seen an exhibit for a while, to share with the rest of us.
This year's exhibit includes a mysterious set of carved cypress, a Japanese crepe silk dress from about 1910 that belonged to a patron's ancestor, and a 19th century French charcoal and chalk painting.
Jan. 27-March 9 -- Carbondale Park District Student Art
The University Museum and the Carbondale Park District collaborated to bring an exhibit created by area students highlighting the different ways to view and represent the nature that is in our own backyards.
Feb. 3-March 9 -- Sustain: A Juried Exhibition of Recycled Art
This exhibit follows a national call for collegiate art created from recycled materials.  Nate Steinbrink, curator of exhibits, and the Museum Student Group, a Registered Student Organization, created the exhibit "as an exploration into the potential to re-purpose used goods into objects of artistic expression."  The exhibit features recycled art from across the Midwest presented in an ecologically friendly exhibit. 
The exhibit is also juried, meaning it is competitive, with cash prizes for Best in Show and for second and third places. 
The project got a boost from the SIU Carbondale Sustainability Council, which awarded the exhibit a grant of approximately $5,800.  The council helps administer the Green Fund, financed by the Green Fee students pay each semester.  All SIU Carbondale students, faculty and staff are eligible to apply for Green Fund project assistance.
A reception for the above exhibits welcomes artists and the community 4-7 p.m. on Feb. 3.  
April 3-21 -- Junior Duck Stamp Program
The Junior Duck Stamp Design Contest is the final step in the Junior Duck Stamp educational program sponsored by the U. S. Fish and Wildlife Service.  Crab Orchard National Wildlife Refuge is the state sponsor for the program and contest, which has been active since 1993.  This year, University Museum features the 2012 Illinois entries, including Dave Hurt's painting of Canada geese, which won the award the first year of the contest.  Hurt is a recent SIU Carbondale graduate.
An exhibit reception is set for April 14; times will be announced later.
March 30 -- ongoing -- The Legacy of Darwin Reid Payne: In Theater and Painting
Payne chaired the SIU Carbondale Department of Theater for many years, and he was a professor of set design.  His 1985 book, "Theory and Craft of the Scenographic Model," was and remains an important text for set designers.  His more recent work includes the integration of traditional scenographic representation with computer graphics.  This exhibit features models of some of his designs.  However, it also showcases another area of art Reid loved and at which he excelled -- painting.
March 30 -- ongoing -- The Kilenge: Life in New Guinea Villages; Documentary Photographs and Objects Collected by Philip Dark
Philip J. C. Dark (1918-2008) was a professor of anthropology at SIU Carbondale from 1960 until he retired in 1978.  Dark's biography in the Pacific Arts Association refers to him as a "Leading Authority on Tribal Arts."  SIU Carbondale is the recipient of Dark's extensive photo documentation and material culture collection.  His particular focus was the Kilenge people in what is West New Britain.  This collection of tribal art and the documentation of the people who made it is one of the unique treasures of the University Museum.
An exhibit reception for the above two exhibits is set for March 30, 4-7 p.m.
There is no admission charge for the University Museum, though donations are always welcome.