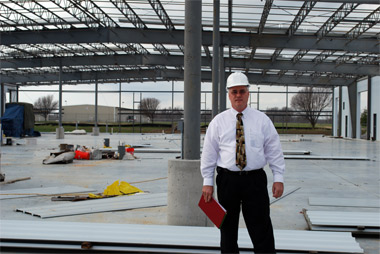 Driving into the future -- Michael B. Behrmann, chair of Southern Illinois University Carbondale's Department of Automotive Technology, stands in what soon will be the fleet storage building for the University's Transportation Education Center. The nationally recognized program will move next year from its home on the Carterville campus to the 230,000-square-foot TEC complex at Southern Illinois Airport.  The facility, which will also be home to the University's aviation flight, aviation management, and aviation technologies programs, will be ready for students for the fall 2012 semester.  (Photo by Pete Rosenbery) Download Photo Here
December 22, 2011
Automotive program gearing up for new facilities
CARBONDALE, Ill. -- The move will be only 16 miles, but the significance of a new home for Southern Illinois University Carbondale's nationally recognized Automotive Technology program cannot be underestimated.
Though the location will change, the rich history, work ethic and dedication of automotive technology students and faculty will not when the department moves next summer from its six-decade-old home near Carterville into the Transportation Education Center (TEC) at Southern Illinois Airport.  The move will allow the program to properly "represent who we are and what we do," said Michael B. Behrmann, associate professor and department chair.
"Getting this program into the Transportation Education Center will allow faculty and students to operate more safely and in a learning environment that appropriately represents our industry, our University, and our students," Behrmann said.
The 230,000-square-foot TEC complex will also house the aviation management, aviation flight and aviation technologies programs.  The facility is now 72 percent complete with a projected July 2012 completion. The complex includes a 186,000-square-foot main education building, nearly 32,000-square-foot fleet storage building, and nearly 11,000-square-foot aviation test cell, and will meet Leadership in Energy and Energy Design (LEED) certification.
The automotive technology program is the only baccalaureate degree automotive program in the state, and is one of the most widely respected and highly regarded automotive programs in the world.  Even with a controlled enrollment range of 180 to 200 students, the number of applicants for the fall 2012 semester is ahead of last year's pace, Behrmann said.  There continue to be more job opportunities than available graduates, and industry officials regularly recruit students for internships and jobs prior to graduation.
Much of the program's success comes from current students recruiting others to the program, Behrmann said.
"The incoming students learn who we are, what we do, the excellence our instructors provide in the classrooms and labs, and the great paid corporate internship opportunities," he said.
Graduates work in a variety of fields in and out of the automotive industry, including high-level corporate managers, technical trainers, manufacturer service representatives, corporate and public school auto instructors, technical and customer assistance specialists and field executives. 
The new center will incorporate several service, demonstration and component laboratories intended to enhance the technical and business training as faculty prepares students for careers in the automotive, truck, power generation, and related ground transportation industries.
Features will include an all-wheel drive chassis dynamometer test cell that allows students to simulate road tests on all-wheel drive, four-wheel drive, and two-wheel drive vehicles, and also manipulate the vehicle while monitoring critical systems, Behrmann said.
There will also be an engine test cell, where students can run and operate engines while utilizing high-end emission analysis equipment. The facility will also feature three component labs for students to work on vehicle sub-systems, including engines, drive trains, transmissions, electrical systems and fuel systems, and five demonstration labs within classrooms.  There also will be a small fabrication lab, computer lab, and in-house auto parts store.
"Right now we do not have room to be able to lay out projects," Behrmann said.  "This will provide us with some more flexibility than we currently have."
The facility will also include a transportation library and two state-of-the-art classrooms that students in all majors will use. 
The move will entail transporting more than 90 cars and trucks from the Carterville campus to the TEC.  More challenging, according to Behrmann, will be the logistics of packing and unpacking more than 200 engines, more than 150 transmissions, cabinets full of specialized tools and equipment, and approximately 20,000 automotive-related books and manuals.
"It's going to be a specialized move," Behrmann said.  "Much of this equipment is very delicate and complicated.  Items have to be properly secured, strapped and moved because it is very delicate and you don't want to have it jarred and fall out of calibration."
Behrmann first stepped on the campus as a student in June 1984, and met with then-chair James E. White.  He concedes there is a mix of emotions in leaving the outdated structures -- originally built as temporary military buildings in 1938.  The structures later served many different purposes, including housing the automotive program, which originated in 1952 as part of SIU Carbondale's then-Vocational Technical Institute. 
Several other programs, many of which remain part of the College of Applied Sciences and Arts, were on the Carterville campus at one time.  Those include architecture, electronics, dental hygiene, and mortuary science, Behrmann said.
"When you look across the automotive transportation and ground transportation industry and see so many of the leaders across the United States walked on this campus and took classes in these classrooms, there is a great history out here," Behrmann said.
The Transportation Education Center will also provide some efficiency and synergy for the automotive and aviation programs, he said.  In addition to sharing some resources, students will have the opportunity to see how other departments operate "because we are now so isolated in our two different areas."
"It's going to be an exciting opportunity to get those students together and work off the ideas that we see other departments and students do," he said.
More information on SIU Carbondale's automotive technology program, including the Transportation Education Center, is available at siucautomotive.com/.