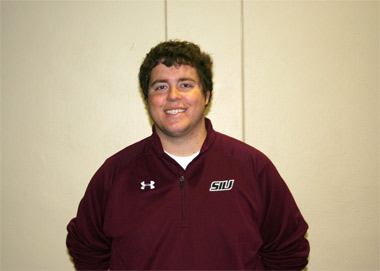 December 19, 2011
Recreational Sports-Services honors Brammeier
CARBONDALE, Ill. -- Southern Illinois University Carbondale's Recreational Sports and Services has announced the newest winner of the Student Employee of the Month award.
Selected for honors for November 2011 was Adam Brammeier of Hoyleton.
Brammeier is a December 2011 civil engineering graduate.  The son of Randy and Lori Brammeier, he worked three years for Recreational Sports and Services.  He was a supervisor for Intramural Sports and Sports Clubs.  His career plans include working in the civil engineering and/or surveying fields.           
"Adam was an integral part of our Regional Flag Football Committee and was able to put his great people skills and problem-solving abilities to use.  He was responsible for staff communication and team correspondence and this put him in direct contact with a lot of people, providing them with updated tournament information.  He worked closely with others and began to shine as an outstanding leader to his peers," said Shane M. Bennett, assistant director of Intramural Sports and Sport Clubs for RSS.
Recreational Sports and Services awards the Employee of the Month honors to recognize student employees for providing outstanding effort and service.