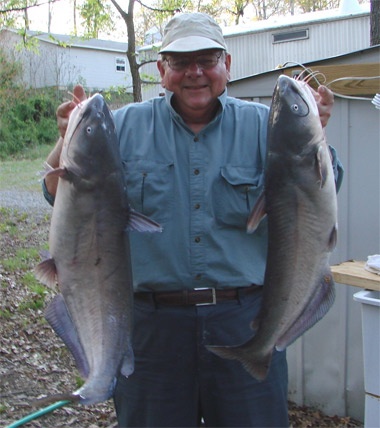 December 15, 2011
Former head of fishery research to receive honor
CARBONDALE, Ill. -- A former leader of fishery research at Southern Illinois University Carbondale will be honored by a sportfishing organization for his work in the field.
Roy Heidinger, former director of the Fisheries and Illinois Aquaculture Center at SIU Carbondale, will receive the special recognition award from the Freshwater Fishing Hall of Fame.  He will receive the award for 2012.
James E. Garvey, the current director of the center, said Heidinger is world renowned for his contributions to fisheries management in freshwater, especially regarding Midwestern lakes and large rivers.
"His research on largemouth bass, one of the most important sportfish in the U.S., is classic," Garvey said.  "Roy retired in 2000 but remains active in fisheries research and training at the University. His students have become managers within natural resource agencies and fisheries educators across the country."
The Fresh Water Fishing Hall of Fame promotes education, recognition and promotion of fresh water sportfishing.  Along with the hall of fame, the organization's mission is developing a museum for the preservation and display of historical artifacts of fresh water sportfishing.  The group recognizes persons, organizations and institutions who have made significant and lasting contributions to the sport and the heritage of fresh water fishing, and conducts programs for qualifying, compiling and publishing all fresh water sportfishing records, among other activities.
The organization's Special Recognition Award recognizes individuals, groups, or organizations for their programs benefiting freshwater angling.  Such individuals or organizations who take special risks or who take stands or make decisions that may have been politically unpopular at the time, but which eventually are shown to have been prudent and have produced positive results for fisheries and/or freshwater sportfishing, may also be recognized in this category.
To earn this distinction, the individuals or organizations must have a proven track record with long-term benefits for fisheries and/or freshwater sportfishing.
Heidinger earned his doctorate in zoology at SIU Carbondale in 1970.  He began teaching at SIU Carbondale in 1971, becoming a full professor in 1980.  Appointed director in 1986 of what was then called the Cooperative Fisheries Research Laboratory, Heidinger served in that position until 1999.   During his tenure, he promoted the expansion of the laboratory's research scope and facilities, including a "wet lab," a pond research complex and special buildings to house fisheries equipment and boats.
Heidinger traveled the continent conducting research on black bass management practices, even working with Cuban officials to strengthen several largemouth bass reservoirs.  His work with the fish early in his career culminated in his writing its synopsis for the Food and Agriculture Organization of the United Nations. 
Heidinger also was well known for his teaching and management practices research in warm water, cool water, endangered and exotic species in rivers and reservoirs throughout the Midwest.  He oversaw dozens of graduate students and developed many fishery management methods now used commonly today.
In 2005, the National Fisheries Hall of Excellence elected Heidinger, and SIU Carbondale recognized him with its Alumni Achievement Award in 2006.
Garvey said Heidinger remains an active fisheries advocate and sportsman.  He said the international recognition by the Freshwater Fishing Hall of Fame is well deserved and reflects the high standards that Heidinger expects of all at the Fisheries and Illinois Aquaculture Center at the University.
"He is an avid fisherman, spending much of his spare time with a fishing pole in our local rivers," Garvey said.  "He's a passionate advocate for sportfishing and an integral, valued member of our program here at SIU Carbondale."