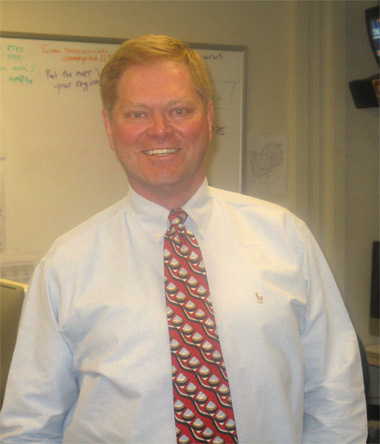 December 15, 2011
Alumnus named River Region news director
CARBONDALE, Ill. -- An award-winning broadcast journalist and graduate of Southern Illinois University Carbondale's prestigious Radio-Television program is the new news director for the University's River Region Evening News.
Gregory A. Todd, the managing editor and social media manager at XETV San Diego 6 News and San Diego 6.com started Dec. 1.  Todd earned his bachelor's degree from SIU Carbondale in 1977, and worked in several broadcast journalism capacities in markets including Indianapolis, Seattle and San Diego, where he was since 2002.
"Greg Todd brings a wealth of television news experience to his new position as news director for WSIU's River Region Evening Edition News," said Gary P. Kolb, dean of the College of Mass Communication and Media Arts.  "Greg will be a terrific resource and adviser for our students working on the newscast.
"Greg's experience lends him the credibility of major market news reporting and producing, and his excitement about returning to his alma mater to lead the River Region Evening Edition newscast is palpable," Kolb said.  "I'm certain he will be a great addition to our news team in the college.  We are lucky to have him back."
Todd said he is "absolutely thrilled" to return to the University. As he walks across campus much of it "looks very much the same.  I can't believe it's been that long ago except now they let in really, really young people," he said with a laugh.
The department's strengths are widely known throughout the nation, he said.
"I've worked all over the country and the college and Department of Radio-Television have an awesome reputation," he said.  "In every market I've worked in, I run into successful SIU graduates.  People who did not go here and who are not from here who are in the business are very familiar with the quality of the students who get into the business from here.  For me, it's a department that launched a career that was very satisfying."
More than 70 students are involved with Evening Edition each semester, where they produce, present, and crew the show that airs at 5 p.m., Monday through Thursday, on WSIU-TV Channel 8.  Newscasts will resume Jan. 30 after the start of the spring 2012 semester.
Dafna Lemish, chair of the Department of Radio-Television, said she is delighted with Todd's appointment. She has "high hopes for the new energies and expertise that he will bring to the newsroom and to our department."
Todd is "bringing with him both expertise in television news production and anchoring, as well as current trends of news on the web," Lemish said.
Todd's background includes work as a reporter, anchor and meteorologist at KOMO in Seattle, an anchor and reporter at WRTV in Indianapolis; news anchor at WFMJ in Youngstown, Ohio, and reporter, photographer, meteorologist, and editor at KDUB, now KFXB-TV in Dubuque, Iowa.  Todd was also an assistant news director at WCIL AM/FM, and student news director at WSIU TV/FM.
Joey Helleny, a senior lecturer in the Department of Radio-Television, was a member of the search committee.
"We are pleased to have a successful graduate of our program returning to help head up the River Region newsroom," he said.  "Greg has been an anchor in Indianapolis, Seattle and San Diego, and has the credentials to help our students learn their craft."
Todd said he was contacted several years earlier when the news director's position opened, but that he was working on several projects in San Diego he wanted to complete and the timing was not right.  After deciding not to pursue the job, however, Todd thought about it further and "had a little bit of non-buyer's remorse."
He remembered that when the position became open again.
"This seemed like a good opportunity to come back home, come back to my alma mater, and be closer to my family," said Todd, who grew up in Lincoln, and whose mother lives in Carterville.
"Here, people are really friendly and genuine.  I relish that," he added.
Todd said he is impressed with how well the students work together, and credits Helleny and Eileen Waldron, a senior lecturer in the department, for their work overseeing the news operation during the past few months.  In addition to duties as news director, Todd will also teach a newswriting class.  He wants to help students set and pursue goals, and "coach them along from where they are to where they want to go."
Todd is also impressed with the faculty and staff in the department.
"There are some brilliant people here," he said.  "There is a good mixture of accomplished professionals from the business and people who are very, very gifted teachers."