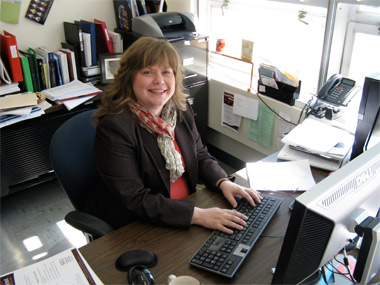 December 14, 2011
Ten questions with ... Nicole L. Davis
Job on campus/department you work in: Instructor and coordinating counselor, Hospitality and Tourism Administration program 
How long at SIU Carbondale: Nine years 
Hometown: Carbondale
When you were a youngster, what did you want to be when you grew up? I was a little like Barbie ... It changed a lot. I settled on "yard sale girl" for a while.
People don't know that you…were a Marching Salukis Flag Girl. 
If you could choose another profession, what would it be and why? Social Media marketing manager, because I'm a Generation X girl geek! 
What is something you still want to accomplish in life? I want to visit Scotland and see where my grandpa's family originated.
What was the first "album" you ever bought, and was it an LP, 8-track or CD? Prince, "Purple Rain." Originally on LP, now on CD!
What is one random fact about you? In 1815, my family homesteaded the land that surrounds the Pomona Natural Bridge.
Cats or dogs? Go Dawgs!
What is your favorite food and why? Fried biscuit donuts covered in cinnamon and sugar. I grew up eating them.
Who has inspired you, and how? My daddy. He never let obstacles that life dealt him get in his way of living. I always admired his strength.
What would you like your gravestone to say about you? Life isn't about waiting for the storm to pass, it's about learning to dance in the rain.