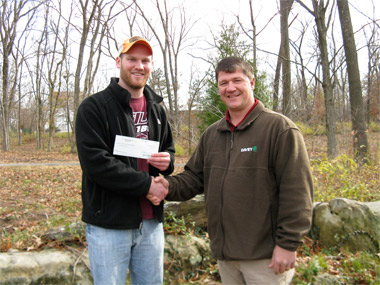 December 12, 2011
Forestry student receives scholarship
CARBONDALE, Ill. -- A Southern Illinois University Carbondale forestry student has won a scholarship from a leading urban forestry company.
Marcus Rutherford, a senior from Chesterfield, won the $1,000 scholarship form the Davey Tree Expert Co.  Rutherford, the son of Darrell and Karen Rutherford of Chesterfield, can use the money for tuition and fees or other related costs, said Tom Beshoar, a salesman with the company who presented the check.
Beshoar, a 1998 SIU Carbondale forestry graduate, said Davey presents about 30 such scholarships each year, and that Salukis have won their fair share of the awards.  Several University graduates work for the company, which he said has weathered the tough economy well.
John Groninger, professor of forestry, said Davey is a strong supporter of SIU Carbondale's forestry department. He also pointed to the work the company did to help restore Campus Woods following the May 2009 storm that knocked down thousands of trees.
"Davey Tree is an industry leader in tree and landscape care and has been a long-time supporter of our urban forestry teaching program, providing guest lectures and demonstrations to our classes and internships for our students," Groninger said.  "They employ many of our graduates."
To be considered for the scholarship, students must supply transcripts, faculty references, be enrolled as a full-time student and have grade point average of at least 2.5.  A committee selects the winning applicants.