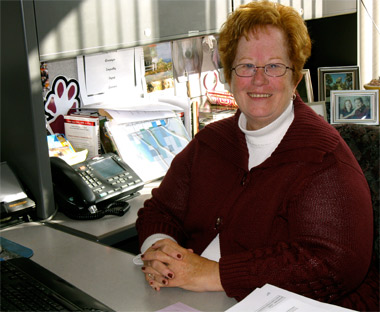 December 07, 2011
Ten questions with ... Brenda Morse
Job on campus/department you work in: Administrative Aide in New Student Programs
How long at SIU Carbondale:  Almost 23 years
Hometown: Aurora, Colo. growing up; Murphysboro since I married in 1980.
When you were a youngster, what did you want to be when you grew up? A lawyer; I always like to figure out puzzles and the court cases seemed intriguing.
People don't know that you … Once accompanied (on piano) Rebecca Ann King at a Miss Colorado pageant in the year she went on to become Miss America 1974.
If you could choose another profession, what would it be and why? Minister of Music in my church; I so enjoy leading the choir and putting on the neat programs during the seasons with the kids and the adults.
What is something you still want to accomplish in life? I want to earn my master's degree in music from SIU Carbondale.
What was the first "album" you ever bought, and was it an LP, 8-track or CD? The Beatles, and it was an LP. I still have it at home somewhere.
If you could pick an actor/actress to play you in a movie, who would you pick and why? Bette Midler; she's short, has red hair, a great laugh and she seems like she'd be fun to be around.
What is one random fact about you? When I was 21 years old, I played the piano in the Capitol Rotunda Building in Washington, D.C., for our traveling church choir, the Singing Coloradans.
Cats or dogs? Definitely dogs! We'd be lost without James Brown, our dachshund.
Who has inspired you, and how? My mother and dad. They worked hard, played fair and gave back.  They said that even though I was their only child, there were many other children in the world, so learn to play fair. They always spent time with me, and encouraged me to chase my dreams.
Favorite cartoon character? Why? Tweety Bird; he's a little guy with a big attitude.  I like his style!