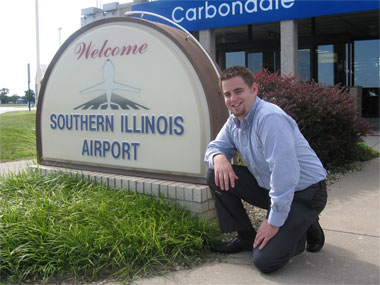 Airports and social media -- Clayton L. Stambaugh, a second-year graduate student in Southern Illinois University Carbondale's Master of Public Administration in Aviation Administration program, will study how airports nationwide use social media platforms such as Facebook and Twitter.  Stambaugh, the son of Kevin and Linda Stambaugh of Rushville, is one of 10 students nationwide to receive research funds through a program designed to attract young scholars to the aviation field.  (Photo by Pete Rosenbery) Download Photo Here
November 09, 2011
Grad student to study airports' use of social media
CARBONDALE, Ill. -- A Southern Illinois University Carbondale graduate student will conduct research on how airports use social media platforms such as Facebook and Twitter in marketing and communication strategies.
Clayton L. Stambaugh, a second-year student in SIU Carbondale's Master of Public Administration in Aviation Administration program, received a $10,000 stipend to study how airports nationwide use social media.  Stambaugh is one of 10 students from universities across the nation to receive research funds through the very competitive Graduate Research Award Program on Public Sector Aviation Issues.  The Transportation Research Board/Airport Cooperative Research Program of the National Academies administers the program sponsored by the Federal Aviation Administration.  The program is designed to attract young scholars to the aviation field and requires preparation of a research paper suitable for presentation at the 2013 Transportation Research Board Conference.
"This is a great opportunity.  I'm excited about it," said Stambaugh, the son of Kevin and Linda Stambaugh of Rushville.  Stambaugh's goal is to be an airport manager.  He earned his bachelor's degree in aviation management from SIU Carbondale in 2010.
David A. NewMyer, professor and chair of the Department of Aviation Management and Flight, said he believes Stambaugh is the first SIU Carbondale student to receive the prestigious award. 
There are more than 19,000 public and private airports in the nation, including approximately 600 certified commercial airports, including Southern Illinois Airport.  Stambaugh plans to assess 382 primary public use airports, including Chicago's O'Hare International Airport and Lambert-St. Louis International Airport, in addition to samples of non-primary certified commercial airports and general aviation airports.
"This will give an initial glimpse into the marketing of aviation using new methods of social media," NewMyer said.  "It will look at what different airports do, the markets they target, and what aspects of the airports they are trying to market."
In his research application, Stambaugh points to the impact the preliminary data he retrieves can have in laying a foundation "for the growth in acceptance, guidance, and use of social media at airports."
"In documenting current practices of the nation's airports with social media platforms, and their use in achieving greater marketing and communication potentials, the framework for preliminary guidance and further study is provided to help develop this relatively new practice which can both help airports capture greater audiences as well as reduce expenditures associated with traditional marketing and communication modes," he said.
Lawrence D. Goldstein, a senior program officer with Airport Cooperative Research Program and manager of the Award Program for ACRP, indicated that Stambaugh's research as described in his proposal will focus on how airports might expand use of the available social media to help ensure that adequate service levels are developed, targeted and maintained.
"The review panel expressed the hope that this research would help improve airport management response to an important ongoing daily communication requirement," he said.
Panel members and selected mentors will work with Stambaugh, along with the other selected students, to prepare a journal-level paper for possible presentation at the 2013 Transportation Research Board Meeting in Washington, D.C.  The best papers from this year's students will also appear in TRB's "Transportation Research Record," Goldstein said.
Stambaugh will review relevant materials regarding how private industry and public higher education use social media in terms of success, challenges, cost savings and traffic. In addition to compiling a database of airports and their respective social media use, Stambaugh will also look at how airport business plans integrate social media into the facility's operations.  The research project also fits into his thesis project.
Stambaugh does not believe that many smaller general aviation airports presently use social media "let alone a traditional website."
"This could be a good way for smaller airports to receive a little bit of mainstream marketing without spending a lot of money," he said.
Gary Shafer, manager of Southern Illinois Airport, said the airport uses Facebook.  Stambaugh's project is important because it "adds to the body of work that is already out there," Shafer said.  Most of the airports that have commercial air carrier traffic do use Facebook and Twitter, he said.
"The program review panel believes that the research proposal has sufficient merit that, if realized, would contribute to airport communication and marketing efforts.  There is not a lot of formality out there on how best to use social media, and maybe Clayton's work will be some of the first work that does that," Shafer said.
Stambaugh is also involved with a project that involves faculty, staff and students at SIU Carbondale in developing a guidebook to help general aviation airports nationwide develop individual business plans.  The University and Aviation Management Consulting Group are partners in a $400,000 research project that the Transportation Research Board awarded in July 2010.