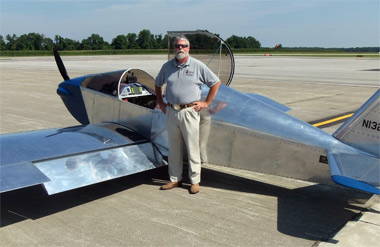 (Photos by Pete Rosenbery)
October 26, 2011
Ten Questions with ... Sam Pavel
Job on campus/department you work in:  Assistant professor, Department of Aviation Management and Flight
How long at SIUC: This is my third year.
Hometown:  Born in Moscow, Idaho, but went to school in Connell, Wash.
When you were a youngster, what did you want to be when you grew up? An astronaut
If you could choose another profession, what would it be and why?
This is my third attempt at a profession, and second academic field.  I worked as an Air Traffic Control Specialist with the FAA.  I served briefly as an ordained minister with the United Methodist Church.  I taught economics for 15 years and now I've finally found a home.  I don't want another profession.
What is something you still want to accomplish in life?
I want to visit all 50 states.  I think I have five or six to go.
Who inspired you and how?
I wouldn't be where I am today without the mentoring of professors in my undergraduate and graduate programs.  In particular, my undergraduate program adviser Dr. Lee Fisher, who started a university flying club that allowed me to earn my pilot certificates, and the director of my master's thesis Dr. Robert Urquhart, who taught me there might be hope for humanity after all.
What was the first "album" you ever bought, and was it an LP, 8-track or CD?
My first album was Maynard Ferguson's "Chameleon."  Yes it was an LP, and yes, I'm that old.
If you could pick an actor/actress to play you in a movie, who would you pick, and why? 
He's not really an actor, but I would pick Jamie Hyneman from Mythbusters to play a character about me.  I think we were brothers separated at birth. 
What is one random fact about you?
I'm a pilot who is deathly scared of heights, unless I'm in an airplane.
Cats or dogs? Why?
Definitely dogs.  Dogs reminded you daily how life is meant to be full of joy and discovery.  Cats are just annoying.
What is your pet peeve? Why?
I have no time for people who try to impose their system of morality on me.
What would you like your gravestone to say about you? 
I think cemeteries and gravestones are an incredible waste of resources.  When I die I want to be cremated and then tossed in a huge bonfire, around which people would be eating, drinking, and reveling.  When the fire dies and kegs and bottles are emptied I want people to be thinking -- "Damn.  That cowboy sure knew how to live life."