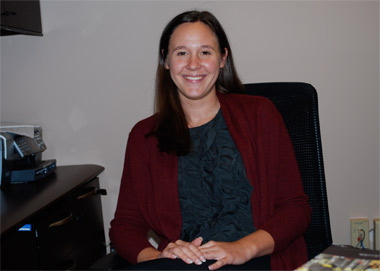 (Photos by Andrea Hahn)
October 19, 2011
Ten questions with ... Amanda Sutton
Job on campus/department you work in: Admissions Counselor/ Transfer Coordinator/ 2+2 Coordinator
How long at SIUC:  Nine years in October
Hometown: Alton
When you were a youngster, what did you want to be when you grew up? I always wanted to be a lawyer during the day and a cocktail waitress at night.
People don't know that … I am a pretty good tap dancer.
If you could choose another profession, what would it be and why? I think it would be exciting to be a small business owner and really get a chance to be creative.
What is something you still want to accomplish in life? I would like to get married and have kids at some point.
What was the first "album" you ever bought, and was it an LP, 8-track or CD?  I bought Michael Jackson's "Thiller" LP, and played it on my Fischer Price record player.
If you could pick an actor/actress to play you in a movie, who would you pick and why? I would pick Jennifer Garner because she seems to be fun-loving and down to earth.
What is one random fact about you? I can install a toilet.
Who has inspired you, and how?  All of the students I encounter inspire me.  They come to campus with such an amazing spirit, ready to pursue their dreams.
What is your pet peeve?  Racism.
Favorite cartoon character? Why?  Smurfette.  She has a closet full of cute dresses and lives in a village full of men… need I say more?