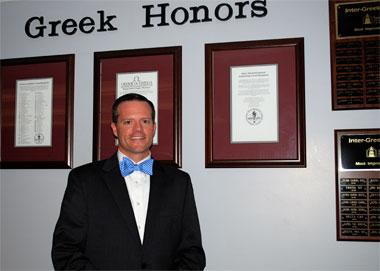 September 28, 2011
Ten questions with ... Andy Morgan
Job on campus/department you work in: Coordinator, Fraternity and Sorority Life, Student Life and Intercultural Relations
How long at SIUC:  14 years
Hometown:  Murphysboro, but have lived in Carbondale for 11 years.  However, I'm the first in four generations not to graduate from Murphysboro High School.
When you were a youngster, what did you want to be when you grew up?  Pig farmer because my late father was one.  I loved going to the farm with him.  The fragrance of a pig farm doesn't bother me.
People don't know that you … In summer 2010 went to a weeklong survival school in Utah where I had to find my own water, build my own shelters, make fire out of a bow drill (was never successful) and hike 15 miles a day through the mountains and high desert (7,000-10,000 feet elevation).  I had minimal food.  I lost 15 pounds.  I loved almost every minute of it!
If you could choose another profession, what would it be and why?  Heavy equipment operator.  Like most boys, I've always had a fascination with big tractors, but I've never outgrown that dream of operating a bulldozer, backhoe, land scraper, track hoe, front loader, etc.
What is something you still want to accomplish in life?  Finish my dissertation!
What was the first "album" you ever bought, and was it an LP, 8-track or CD?  An LP, and the band was "Night Ranger" and their album was "7 Wishes."
What is one random fact about you?  I graduated high school in Phoenix, Ariz., at Brophy College Preparatory, an all-boys Jesuit high school.
Cats or dogs?  Dogs!  My family has two dogs:  a 19-month-old golden retriever (who is always entertaining) and a 7-year-old Yorkie Poo (who is rather boring).  However, I do respect cats. 
What is your favorite food and why?  I'll eat anything except catsup and canned tuna.  However, I could easily eat pizza for every meal for every day of the week.
What is your pet peeve?  When people say "no problem" rather than "you are welcome."