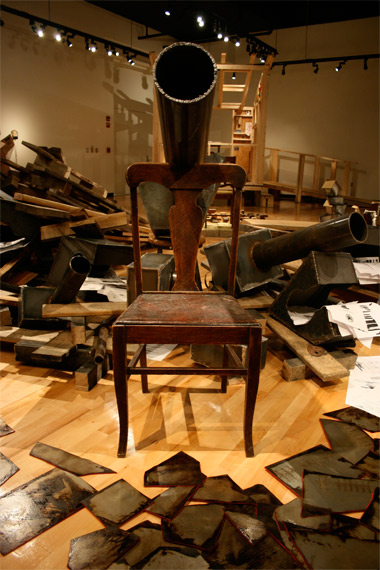 September 19, 2011
Surplus Gallery to host exhibit by Chris Wubbena
CARBONDALE, Ill. -- The Surplus Gallery, the exhibition space in the Southern Illinois University Carbondale School of Art and Design studios housed at the Glove Factory, opens the academic year art exhibit schedule with a sculptural installation from artist Chris Wubbena.
The art exhibition, "speaking while listening," opened Sept. 13 and runs through Sept. 23. 
Wubbena described his exhibit as one "seek(ing) honesty with our past in order to create something better for our future."  He drew inspiration, he said, from a recent trip to Vietnam with his father, a Vietnam War veteran who returned home from the war with post-traumatic stress disorder. Wubbena said the return trip to Vietnam was an "emotional but rewarding one."
Wubbena modifies his exhibit for each venue, making each exhibit a new incarnation of the sculpture installation.  The multi-media exhibit includes sculpture created from paper, fabric, concrete, steel and wood, with text.
An associate professor of art at Southeast Missouri State University, Wubbena earned the Grand Award at the juried Delta Exhibition in Little Rock, Ark., and a Mississippi Arts Commission Visual Arts Fellowship.  He completed a commissioned public work for the Mississippi Power Co. in commemoration of work accomplished by Mississippi Power employees after Hurricane Katrina.
The Surplus Gallery, part of the Glove Factory, is at 432 S. Washington Ave. in Carbondale.  The gallery is open noon to 5 p.m. on weekdays.