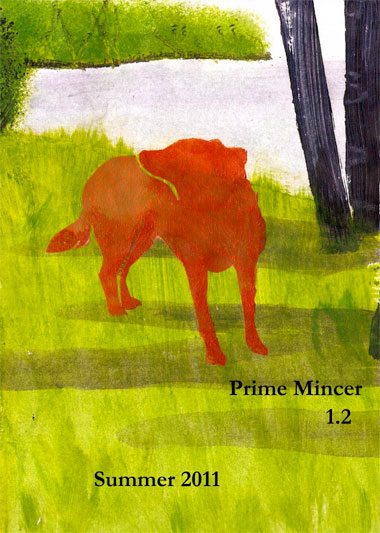 September 16, 2011
New literary journal at SIUC sees early success
CARBONDALE, Ill. -- Prime Mincer isn't just stretching its legs -- it's out for a real run.
Prime Mincer is a new literary journal created by Southern Illinois University Carbondale graduate student Peter Lucas and SIUC alumna Abby French Wheetley.  The journal recently saw its second issue, and it's going strong.
"We've gotten about 1,000 submissions per issue," Lucas said, noting that his fellow graduate students in the creative writing master of fine arts program have been a strong resource for finding able readers.
"We had 1,000 submissions for the first issue -- that was for a journal that didn't even exist yet.  It just goes to show how much literary work is out there, and how few outlets exist for it," Lucas said, somewhat modestly describing the journal's success.
While the journal is thoroughly part of the modern electronic age, with issues available through all the major eBook retailers, Lucas said the print version is more popular.
Lucas attributes this to the particular market the journal reaches.  Many of the readers are also writers, he noted, and print journals carry a high level of credibility with writers.  That is not, Lucas stressed, to sleight electronic journals, but it does indicate a certain affinity for the printed and bound word, at least among the journal's readership.
Lucas, Wheetley, and poetry editor Amy Graziano, also an SIUC alumna, plan an eventful next few issues for Prime Mincer.  Up next is a poetry contest, deadline Oct. 1, with cash prizes as well as publication and contributor copies.   SIUC's own Rodney Jones, professor and award-winning poet, is the final judge for the contest.  Jones is a Pulitzer Prize finalist, National Book Critics Circle Award recipient and winner of many other awards, including a Harper Lee Award and a Guggenheim Fellowship.
"We've had a lot of support from the faculty," Lucas said, noting that Allison Joseph, also an award-winning poet and the director of the MFA program at SIUC, included the journal on her writer resources list-serv email.
Future plans include publication of poetry chapbooks and a fiction contest. The journal sees publication three times annually, with issues appearing March 15, July 15, and Nov. 15.
The journal takes its name from word play in "Riddley Walker," an award-winning, apocalyptic science-fiction novel by Russell Hoban.
For more information, visit http://primemincer.wordpress.com.