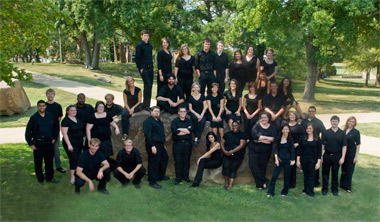 September 12, 2011
SIUC choir to close choral directors' meeting
CARBONDALE, Ill. -- The Southern Illinois University Carbondale Concert Choir will perform as invited guests at the Central Division of the American Choral Directors Association next spring.
Choral Director Susan Davenport said the SIUC Concert Choir will present the final concert of the convention, acting as a grand finale to the several-days-long event.
Davenport said the concert choir submitted audition CDs, which included selections from the previous three years of performances to establish that the choir's performance quality demonstrates ongoing excellence.
The program selections cross a wide swath of time, with music from the Renaissance through modern times, including contemporary composers.  Davenport said the program the choir will present is called "Day and Night," with the two segments of the performance highlighting those two concepts.
The SIUC Concert Choir has logged some impressive tour miles in recent years. The choir was part of a four-city tour in China, and recently participated in the chancellor's inauguration in Chicago and Springfield.  The choir also has been the invited guests at other conventions, including the Illinois Music Educators Association All-State Conference.
The SIUC Concert Choir is a School of Music ensemble of approximately 40 students selected by audition.
For more information about the School of Music at SIUC, visit http://music.siuc.edu.