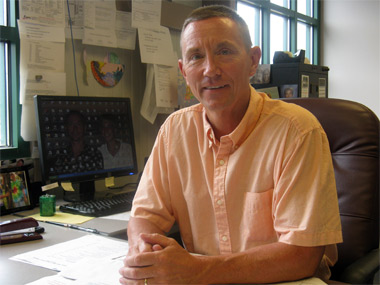 (Photos by Pete Rosenbery)
August 17, 2011
Ten Questions With ... Neil F. Saffelder
Job on campus/department you work in: Chief Plant Operating Engineer, SIU Power Plant
How long at SIUC: 11 years
Hometown: Marion
When you were a youngster, what job did you want to be when you grew up? I wanted to be a veterinarian
If you could chose another profession, what would it be and why?  I would open my own microbrewery. It would be a family business. We recently started making beer and I find it very challenging and rewarding.
What is something you still want to accomplish in life?  Travel to Europe and to see the Sistine Chapel.
People don't know that you … love to play the guitar.
Who inspired you and how? My Mom. She taught me to work hard, be honest, and to have faith when life is hard.
What was the first "album" you ever bought, and was it an LP, 8-track, or CD? "The Monkees," it was an LP
If you could pick an actor/actress to play you in a movie, who would you pick, and why? Bruce Willis. Why? Why not?
What is one random fact about you? I'm an optimist.
What is your pet peeve? Lazy people. We all need to pull our own weight.
What would you like your gravestone to say about you? "He Loved God, Family, and Friends. He Lived His Life."