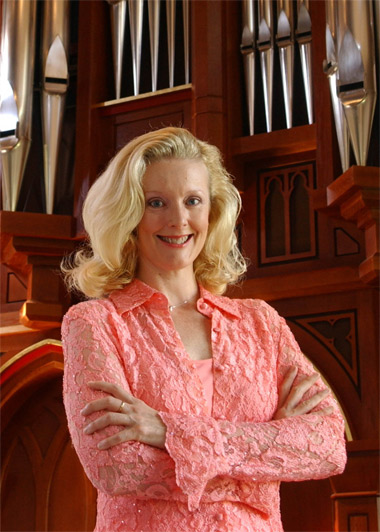 August 11, 2011
Organist Janette Fishell to present concert
CARBONDALE, Ill. -- Southern Illinois University Carbondale welcomes Janette Fishell to the Marianne Webb and David N. Batman Distinguished Organ Recital Series concert.
The free performance begins at 7:30 p.m. on Sept. 16 in Shryock Auditorium.  A pre-concert buffet dinner begins at 5:30 p.m. in Ballroom B of the Student Center.  Tickets for the dinner are $25 per person, and include admission to a special seating section in Shryock Auditorium.  Reservations for the dinner must be made by Sept. 12 at the Office of Constituent Relations and Special Events, Room 207, Mail Code 6525, SIUC, 1225 Douglas Drive, Carbondale, Ill. 62901.
Fishell is chair and professor of organ at Jacobs School of Music, Indiana University.  As an undergraduate, Fishell earned the title "Young Organist of the Year" from Keyboard Arts, Inc.  She also headed the Organ and Sacred Music Studies program at East Carolina University, and was director of music and organist at Saint Paul's Episcopal Church in Greenville, N.C. 
Her performance credits include such venues as Suntory Hall, Tokyo; King's College, Cambridge; Schauspielhaus, Berlin and Liszt Academy, Budapest.  She was featured at multiple regional and national conventions of the American Guild of Organists.  She is also a recognized expert on Czech composer Petr Eben.
The concert at SIUC includes selections from Bach, Liszt and Eben, among other selections.
The Distinguished Organ Recital Series at SIUC began in 1990 when Marianne Webb, Distinguished University Organist, visiting professor in the School of Music, and the namesake of the Marianne Webb Pipe Organ in Shryock Auditorium, and David N. Bateman, professor emeritus from the College of Business, established it to bring renowned organists to the Southern Illinois area. The series is possible thanks to an endowment Webb and Bateman provided in perpetuity.