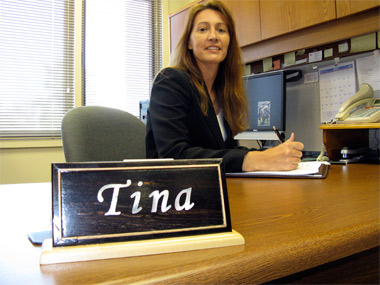 July 27, 2011
Ten questions with ... Tina Galik
Job on campus/department you work in: Assistant Treasurer
How long at SIUC: 10 ½ years
Hometown: Mulkeytown
When you were a youngster, what did you want to be when you grew up? I wanted to be a pharmacist until I found out that very few pharmacy schools offer collegiate sports programs.
People don't know that you … Still hold three track records at Eastern Illinois University….even I had to look it up.
What is something you still want to accomplish in life? I would love to become "conversational" in Spanish.
What was the first "album" you ever bought, and was it an LP, 8-track or CD? My first album was a Christmas gift from my uncle and it was Foreigner 4 on vinyl.
If you could pick an actor/actress to play you in a movie, who would you pick and why? Sandra Bullock because she has a natural beauty and she cracks me up. Check her out in "Miss Congeniality."
What is one random fact about you? I am a cancer survivor.
Cats or dogs? Dogs, because cats hate my husband.
Who has inspired you, and how? Dara Torres gives me hope that there is life after 40. At the age of 41, Dara qualified for the 2008 Beijing Olympics (her fifth Olympics) and, not only became the oldest swimming medalist but broke the American record in the 50-meter freestyle, a record she first set when she was just 15 years old.
What is your pet peeve? Improper cell phone etiquette drives me crazy….put down the phone in the Walmart check-out line.
Favorite cartoon character? Why? I just love Bugs Bunny because he is a smart kind of funny and has a lot of great lines. One that seems appropriate here is, "He don't know me very well, do he?"